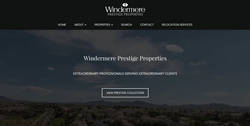 Part of being a full service real estate company is being able to service our clients with any real estate need they may have; be it locally, nationally, or internationally
Las Vegas, NV (PRWEB) November 01, 2017
Windermere Prestige Properties is pleased to announce the launch of a new website re-design for FineVegasHomes.com.
The website re-design was not a singular project in and of itself, but rather a reflection of the continued growth the company has maintained since its inception. Windermere Prestige Properties has truly evolved into a Full Service Real Estate Company and we need a website that reflects that," states Robyn Yates, Broker and CEO.
The newly re-designed website now offers clients and visitors a more inclusive and user-friendly experience. Visitors have the ability, not only to search for local, national and international homes, but to search and access local rentals, condos, high rises, land and vacation rentals as well. For additional ease, visitors can search specifically by community, price range, property type, and other numerous available search criteria.
"Part of being a full service real estate company is being able to service our clients with any real estate need they may have; be it locally, nationally, or internationally," says Robyn Yates. One of the new website enhancements, features the company's Relocation Services, which assists in the renting, purchasing, or selling of real estate anywhere in the world. This section also allows users to ability to search for homes worldwide through their partnering brokers.
Being a real estate company with global reach, the website needed to reflect that in being the resource for community information as well. Local, national and international visitors will now have access to community landing pages, that will assist them in learning about all the unique areas and communities that the Las Vegas Valley has to offer.
During the process of seeking out rental, residential, or commercial real estate, the newly-designed website even offers users the ease of arranging accommodations. If a quick weekend visit is needed, or even a long term stay; national and international visitors can easily make arrangements under the newly designed Resort Rentals section. For the locals, they can utilize the Resort Rentals section as well, be it for an enjoyable stay-cation, accommodations for out of town family and friends, or to include their property for management.
As Windermere Prestige Properties continues to maintain itself as the local experts with global reach, their website will provide the latest news and updates around the Las Vegas Valley. The re-designed In The News section and the Luxury Homes Blog will showcase current articles, videos, publications, and happenings in the Las Vegas community and outward.
As the company continues to excel as a full service real estate brokerage, their website will continue to evolve and reflect that. They will continue to provide exceptional service in every clients' needs, from the purchasing and selling of residential homes and commercial real estate, relocation around the world, property management, and multi-million-dollar commercial developments.
As one of Las Vegas' top real estate firms, Windermere Prestige Properties has the staff, teams and professionals in place to provide their clients with a one of a kind experience. For more information about Windermere Prestige Properties, today's Las Vegas real estate market, or to explore the services offered by Robyn Yates and her team, visit FineVegasHomes.com or contact he office at 702-432-4600.
"Extraordinary Professionals Serving Extraordinary Clients"