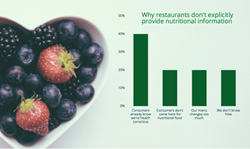 Transparent data is likely to draw clientele
New York, NY (PRWEB) October 29, 2017
Edamam, a leader in digital nutrition solutions, released today a white paper on the habits and attitudes of millennials towards food and what these mean for running a restaurant business in today's world. A key finding of the paper is that nutrition data, as well focus on sustainability and social engagement, are important differentiators that drive the millennial customers to restaurants. With ever expanding wallets and strongly held views on food, this generation is likely to have the greatest impact on restaurants in at least 50 years.
The white paper was based on independent research done by Edamam, researcher from New York University College of Global Public Health and SPE Certified, a company certifying restaurant sustainability efforts.
In addition to doing a broad study of millennial attitudes towards food and eating, the team interviewed a number of New York City based restaurants to evaluate their awareness, preparedness and ability to cope with the new rising tide of young diners.
"We found that while restaurants are generally aware of changing attitudes and their potential impact, they have by and large done little to change and adjust course to take advantage of the millennial diner," commented Victor Penev, Edamam's CEO and Founder.
As transparency becomes a must and a growing awareness about the impact of food on health and well-being is starting to drive decisions when buying groceries or ordering a meal, fully available and clearly presented nutrition data is something every restaurant must consider as part of running day-to-day business.
"Restaurants believe that for the time being price and taste still drive decisions. While this is true, establishments with focus on transparent data are likely to draw in clientele disproportionately." added Victor Penev.
Edamam provides a cheap and easy to use tool for restaurants to analyze the nutrition of of meals they serve and add nutrient, allergen and diet relevant data to their menus.
About Edamam
Edamam organizes the world's food knowledge and provides nutrition data services and value-added solutions to health, wellness and food businesses. Using a proprietary semantic technology platform, it delivers real-time nutrition analysis and diet recommendations via APIs. Edamam's technology helps customers answer for their clients the perennial question: "What should I eat?"
Edamam's partners and clients include The New York Times, Epicurious, Nestle, Samsung, AARP and Random House.
For more information, please visit http://www.edamam.com or developer.edamam.com.
Media contact:
Victor Penev
victor@edamam.com
+1.646.378.8317