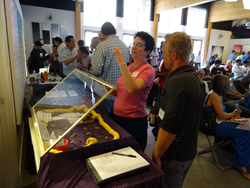 Startup Hustle Demo Night demonstrates Sacramento's thriving startup community during Global Entrepreneurship Week
ROCKLIN, Calif. (PRWEB) October 31, 2017
Sierra College with Hacker Lab will showcase Sacramento's newest startup businesses on Monday, November 13, the first day of Global Entrepreneurship Week (Nov. 13-19). Participants in the six week long Hacker Lab Startup Hustle will give their pitches for their new business concepts from 6-8:30 PM at Hacker Lab's Midtown location, 1715 I St., Sacramento CA. RSVP
According to Laura Good, Startup Hustle's Project Manager, the community is invited to attend Demo Night to celebrate entrepreneurship and discover how to join Sacramento's startup scene as a partner, investor, mentor or future entrepreneur. "Over the past six weeks, our Startup Hustle cohort has been working overtime to investigate customer problems, create solutions and develop a business model," said Good. "They've done their homework, identified big opportunities and will be sharing what they've created to get their ideas to the next level. This event demonstrates Sacramento's thriving startup community during Global Entrepreneurship Week."
Steve Dicus, Deputy Sector Navigator for Advanced Manufacturing, housed at Sierra College, explained that the wider Sacramento region has a growing customized manufacturing sector to support startups in producing the products they've developed.
"Startup Hustle participants and local entrepreneurs can produce prototypes at Hacker Lab using 3D printing and benefit from manufacturing advice office hours offered by SME at both the Rocklin and Midtown locations," said Dicus. "To meet increasing demand from entrepreneurs to produce products locally, manufacturers are benefiting from the growing number of students with a startup mindset as well as 3D design and automated machining capabilities coming out of programs such as the GENE HAAS CENTER for Advanced Manufacturing by Design at Sierra College."
Hacker Lab powered by Sierra College in Rocklin is one of several makerspaces in the greater Sacramento region supported by the California Community College CCC Maker initiative to prepare students with 21st century skills through programs like Startup Hustle and connect small businesses to entrepreneurial resources, according to Dominic Gutierrez, Director, Sierra Makerspaces. "I encourage Sierra College students to attend Startup Hustle Demo Night and network with the wider entrepreneurial community," said Gutierrez. "They'll be inspired by the journey from idea to business concept that will be shared by these emerging entrepreneurs."
The California Community College Chancellor's Office Workforce Development Division supports both the Advanced Manufacturing and CCC Maker initiatives, housed at Sierra College, under the Doing what MATTERS for Jobs and the Economy framework, to prepare students with entrepreneurial, manufacturing and innovation skills to support economic growth.
Hacker Lab powered by Sierra College is a community makerspace open to the public and offers members 24/7 access. Sierra College faculty are given memberships to incorporate innovation into their curriculum, Sierra College students can join for just $12.50 per month and reasonable rates are available for individual and family memberships.
About Sierra College
Sierra College District is rising to meet the needs of our community, serving 3200 square miles of Northern California with campuses in Roseville, Rocklin, Grass Valley and Truckee. With over 120 degree and certificate programs, Sierra College is Northern California's top community college for transfers to four-year universities and offers career/technical training and classes for upgrading job skills. Sierra graduates can be found in businesses and industries throughout the region. More information at http://www.sierracollege.edu.