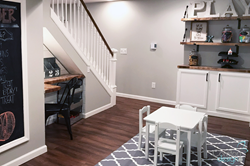 Comfort Design Mats are stylish play mats made for kids, designed for parents
San Diego, CA (PRWEB) October 30, 2017
Comfort Design Mats, the company that creates stylish, chic foam play mats made for kids but designed for parents, is now offering four beautiful new styles. From an espresso brown trellis pattern to a bold, sleek black linen design, these gorgeous new additions give you even more ways to upgrade your home décor.
Each style provides the same comfy, safe place for the little ones to play. With the holidays right around the corner, you'll feel confident entertaining knowing your Comfort Design Mat is as company ready as it is kid friendly. No more having to hide that brightly-colored puzzle mat that clashes with the décor.
Great Features of Comfort Design Mats:

Safe and non-toxic- Free of BPA, formaldehyde and lead. Hypoallergenic and non-flammable too!
Easy Cleanup & Waterproof- Just wipe away the mess. Because there are no interlocking pieces to squeeze between, juice won't stain your floor. Plus, it's reversible with the same design for a quick fix.
Large & Comfy- 6 ½ by 4 ½ ft. of non-slip, cushioned padding provides plenty of room for jumping, rolling or playing.
About Comfort Design Mats:
They say necessity is the mother of invention, that was certainly the case with Comfort Design Mats. Mother of three, Linda Tong grew tired of using unattractive play mats that she often had to hide away at the end the day. She founded Comfort Design Mats to offer parents a new kind of play mat: safe and comfortable, with uncompromising style!
For a look at Comfort Design Mats' great styles go to http://www.comfortdesignmats.com.