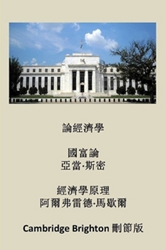 RALEIGH, N.C. (PRWEB) October 31, 2017
Cambridge Brighton's book "Treatises on Economics (Chinese)" (published by Lulu) offers a condensed version of two essays on economics – "Wealth of Nations" by Adam Smith and "Principles of Economics" by Alfred Marshall – written in traditional Chinese.
Brighton, who learned about classical and neo-classical economics through her undergraduate and graduate economics courses, personal reading and personal interest in the topic, says the premise of the book is imparting a history of classical and neo-classical economics.
Smith and Marshall, both Europeans who lived nearly 50 years apart, developed their theories around the time of the Industrial Revolution. Smith, a classical economist, theorized that a nation's wealth is dependent on productivity, maintaining equilibrium of imports and exports, and appropriate use of assets. Smith is quoted as saying: "If a nation cannot raise its revenue in proportion to its expense, it ought at least to accommodate its expense to its revenue."
Meanwhile, Marshall created a broad theory of consumption and production. Marshall's ideas included laws of supply and demand, price equilibrium and price theory. Brighton also notes that Marshall's theories on production, consumption and market price are "the foundations of modern economic theories that are still widely used today."
An excerpt from "Treatises on Economics (Chinese):"
[I]n real life nearly every economic issue depends, more or less directly, on some complex actions and reactions of credit, of foreign trade, and of modern developments." Alfred Marshall.
"Treatises on Economics (Chinese)"
By Cambridge Brighton
Softcover | 6 x 9 in | 362 pages | ISBN 5800122269942
Available at Amazon and Barnes & Noble
About the Author
Cambridge Brighton is an educator with an interest in economic theory.
Lulu empowers people of all ages to explore and express their interests, passions and expertise through books, photography and art. Since introducing self-publishing in 2002, Lulu has empowered creators in more than 225 countries and territories to produce nearly two million publications. Lulu Jr. allows children to become published authors, encouraging creativity, strengthening literacy and building self-esteem. Picture.com offers professional photography of collegiate and professional sports, memorable and historic events, fine art and home décor. For more information, please visit http://www.lulu.com.