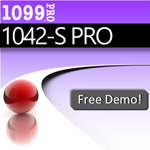 Our business rules and validations have saved clients from countless IRS penalties!
Los Angeles, CA (PRWEB) August 09, 2017
1099 Pro, Inc., http://www.1099pro.com, recently released 1042-S Pro – 1042-S software for tax year for 2017. The 1099 Pro development team appears to be ahead of the pack with its efficient implementation of the many IRS form and compliance changes related to 1042-S reporting. With this early release, Withholding Agents can get a head start on inputting or importing 1042-S data by utilizing the 1042-S Pro business rules & validations – which are designed to help ensure proper IRS reporting.
The 2017 IRS compliance related changes are numerous and include both new and updated requirements. Most notably, a 10-digit unique form identifier is required on all forms in order to distinguish between multiple 1042-S records that are submitted by the same Withholding Agent. This requirement is present for both Original and Amended forms and is designed to distinguish which 1042-S record should be updated when the records submitted have the same TIN/Account. Fortunately, it appears that 1099 Pro's 1042-S software auto-generates these fields as necessary. Amended 1042-S forms must also include an amendment number in addition to the unique form identifier number that is associated with the original form. 1042-S Pro also generates the amendment number, and sequentially updates any additional amendments, per IRS guidelines.
On a deeper level, the IRS also issued many IRS code changes for tax year 2017. Most notably, these are 1) QUALIFIED DERIVATE DEALERS (QDDs) - now face new withholding requirements including Chapter 3 Exemption and Status codes as outlined in Revenue Procedure 2017-15, 2) BOX 1 INCOME CODE 54 has changed from "Other Income" to "Substitute Payments – Interest from Certain Actively Traded or Publicly Offered Securities", 3) INCOME CODE 23 "Gross Income – Other" may be appropriate to report payments of income if no other income code applies: Filers are encouraged to review Treasury Regulations section 1.1441-6(c)(2), 4) CHAPTER 4 EXEMPTION CODES now include a code for payments not subject to Chapter 4 withholdings and for which no other codes apply, 5) EXCLUDED PAYMENTS EXEMPTION CODES on offshore obligations and collateral do not apply for 2017 and have been removed, and 6) NEWLY ADDED CODES have since been retracted by the IRS including Pooled Reporting Codes 36, 37 & 38 and Joint Account Withholding Rate Pools Code 33. 1042-S Pro reflects all these code changes and will incorporate any other last-minute 2017 changes in software updates as necessary.
Michael Stewart, 1099 Pro, Inc.'s Director of Compliance, acknowledges, "We are committed to implementing IRS changes for all of our software products well ahead of reporting deadlines. The 1042-S reporting process, and form itself, has grown significantly more complicated and thus our business rules and validations, which help identify errors or warnings when completing the 1042-S form, have saved clients from countless penalties. Further, the verbiage and severity for these business rules are customizable and thus provide our users with an additional level of flexibility when in pursuit of more accurate filings."
As a first-hand user of 1099 Pro's 1042-S software, there are a number of beneficial features that make the price tag well worth the extra money that you will spend. First, 1042-S Pro provides specialized print layouts, including a layout that allows two lines of the recipient name to fit on the tax form (as opposed to the single line that the IRS gives) and thus can fit the full name of most recipients on the tax form. Secondly, 1042-S Pro provides Service Bureau functionality where 1099 Pro's SSAE 16 SOC I Type II secure Service Bureau can print, mail, and electronically file on your behalf. Thirdly, the 1042-S Pro software provides sample import files so that users can understand how to import data into the correct location on the form without having to create their own import maps or utilize real data. Lastly, the 1099 Pro team provides excellent customer service which comes in addition to online help tutorials such as YouTube videos.
The 2017 edition of the 1042-S Pro software is competitively priced with discounted renewal rates available to repeat purchasers. Additionally, a DEMO version is available for free and can quickly convert into the full version upon purchase – without the loss of any data. Single and multi-user installations are available to meet all users' needs. Technical Support is always complimentary.
1099 Pro, Inc. has been in business for over 25 years and files over 10% of the information returns filed in the United States each year. 1099 Pro software is separately available for 1099, W-2, 1042-S, FATCA 8966, & AEOI CRS reporting of tax forms and can process printing, eFiling, TIN/Name matching, custom reports, & corrections. Our SSAE 16 SOC I Type II Security Certified Service Bureau reliably processes millions of forms each year, is located in the United States, and is affordably priced for those users looking to outsource the printing, mailing, and reporting process.