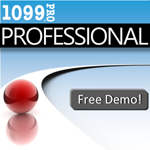 Built-in business rules help validate data before submitting to the IRS.
Los Angeles, CA (PRWEB) August 08, 2017
1099 Pro, Inc., http://www.1099pro.com, continues to improve its 1099 software functionality with its ongoing goal of boosting user productivity and efficiency. As IRS penalties increase due to inflation adjustments, 1099 Pro's easy-to-use software and services are not just economical—they are invaluable.
Examples of new 1099 Pro software highlights include 1099-MISC Box 7 (NEC) reporting filters and simplified Service Bureau Printing/eFiling Uploads via a flat wizard interface. "Flat wizards" replace traditional multi-screen selection processes with a single screen that displays all available choices at a glance - essentially saving time and headache. These and are also being developed for other key processes within the 1099 software. On-demand, integrated, TIN/Name matching within 1099 Pro's software is also available and is fast, easy, and free for the first 10 TIN/Name checks.
The 2017 IRS tax form changes are also reflected in this release, including: 1) Form 1098—The 2016 Box 10 "Other" is now Box 11 and Box 10 is now "Number of Mortgage Properties", 2) Form 1099-OID—Box 11 "Amount Tax-Exempt OID" is added, and 3) Form 1099-S—The 2016 Box 5 "Buyer's Part of Real Estate Tax" is now Box 6 and Box 5 is now "Foreign Transferor's Checkbox".
For those users eager to get started this tax season, updated 2017 sample import files are available for immediate download at 1099 Pro's Wiki site – a knowledge & compliance repository for IRS/SSA form types and regulations. And to make importing, printing, electronic filing and service bureau processing as simple as possible, 1099 Pro, Inc. has enhanced its online support library with a dedicated YouTube channel featuring new videos. This is in addition to 1099 Pro Support which already features Live Chat, FAQs, videos, online invoice payment and more.
With IRS penalties for "Failure to File Correct Statements on a Timely Basis" exceeding $500 per return with no limits, successful IRS file submission is a huge concern amongst IRS filers. Business rule validations are included in all 1099 Pro software products with the objective of minimizing IRS rejections. For example, a critical business rule validation is "TIN or Last Name/Company Is Required" when importing or entering any tax form. The 1099 Pro software will reject any such record that triggers this validation. Other business rules trigger errors or warnings and the user can decide how to proceed.
Michael Stewart, 1099 Pro, Inc.'s Director of Compliance, adds "Our built-in business rules are critical to the end user's filing success. Not only do we offer common rule validations for recipient information, but tax form specific ones as well. Every year we carefully review these rules to ensure they reflect the newest IRS/SSA requirements. As an illustration, Form 1098 for 2017 validates that Box 10 Number of Mortgaged Properties is 2 or greater, as the IRS only wants a number if the value is greater than one. Of course, users are ultimately responsible for the quality of their data and business rule validations are a great tool to that end."
The 1099 Pro 2017 1099 software is competitively priced with discounted renewal rates available to repeat purchasers. Moreover, interested parties who download the DEMO version can quickly convert the 1099 software into the full version upon purchase. Professional, Enterprise and Corporate Suite versions— in single and multi-user installations—are available to meet all users' needs. Technical Support is always complimentary. If interested, 1099 Pro Sales can be contacted at (888) 776-1099.
ABOUT 1099 Pro, Inc.
1099 Pro's software supports forms 1095-B, 1095-C, 1098, 1098-C, 1098-E, 1098-T, 1099-A, 1099-B, 1099-C, 1099-CAP, 1099-DIV, 1099-G, 1099-H, 1099-INT, 1099-K, 1099-LTC, 1099-MISC, 1099-OID, 1099-PATR, 1099-Q, 1099-R, 1099-S, 1099-SA, 3921, 3922, 5498, 5498-ESA, 5498-SA, W-2G, FATCA 8966, AEOI CRS Reporting, & W-9/B-Notices.
1099 Pro, Inc. has been in business for over 25 years and files 10% of the information returns filed in the United States each year. 1099 Pro software is separately available for 1099, W-2, 1042-S, FATCA 8966, & AEOI CRS reporting of tax forms and can process printing, eFiling, TIN/Name matching, custom reports, & corrections.