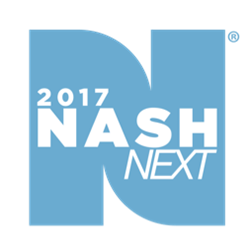 Desmond Child, Brantley Gilbert and Cindy Watts, join Scott Borchetta and Kix Brooks to Judge the Finale Event at Nashville's Wildhorse Saloon on November 1
Nashville, TN (PRWEB) October 30, 2017
Cumulus Media, #1 for Country and radio's dominant source for Country music, announced today three additional judges - Songwriter Hall of Fame writer Desmond Child, chart-topping entertainer Brantley Gilbert, and the Tennessean's Cindy Watts - for NASH Next. The one-of-a-kind national and grassroots talent search and artist development program for Country music culminates with a finale event open to the public on November 1 from 7:00 – 10:00P at the Wildhorse Saloon in Nashville, Tennessee.
Rounding out the rock-solid panel of music industry experts and luminaries are previously announced judges Kix Brooks, half of Grammy-winning duo Brooks & Dunn, one of Country music's most successful duos of all time, and host of Westwood One's American Country Countdown, and Big Machine Label Group Founder, President and CEO Scott Borchetta. BMLG is the world's No. 1 independent record label and home to such superstars as Taylor Swift, Rascal Flatts, Reba McEntire, Florida Georgia Line, Thomas Rhett, Brantley Gilbert and more.
Additionally, "No Peace In Quiet" crooners Delta Rae will perform along with NASH Next 2016 Winner Todd O'Neill. Delta Rae tells stories in four-part harmony and released their A LONG AND HAPPY LIFE EP earlier this year on BMLG imprint The Valory Music Co. Todd O'Neill released his debut single "Love Again" in April, which became his first Top 40 hit at Country radio.
The finale event will take place on November 1st, from 7:00 – 10:00 pm at the Wildhorse Saloon in Nashville, Tennessee. The event is open to the public.
The 10 national finalists are:
1) Lick Creek representing Bloomington & Peoria, IL
2) Katie Austin representing New Orleans, LA
3) Morgan Leigh Band representing Oxnard/Ventura, CA
4) Natalie Spiroff representing Cincinnati, OH
5) Alexis Gomez representing Centerville, OH
6) Gyth Rigdon representing Lake Charles, LA & Beaumont, TX
7) Schatzi + the String Boffin representing Fort Walton Beach, FL
8) Radio Romance representing Nashville, TN
9) Mike Rut representing Salt Lake City, UT
10) Ashley Jordan representing Worcester, MA
The NASH Next 2017 winner will receive a record deal with NASH Next Records under the BMLG umbrella, as well as substantial exposure, commensurate with a major label release, on Cumulus radio stations nationwide. While television boasts several talent competitions, NASH Next is the first contest on any platform to offer its winners the opportunity for coveted radio play, which is the most effective medium to cultivate an artist and propel a major music career.
In the last five years, Country has supplanted Pop as the #1 most popular music genre, with nearly 100 million fans (2017 Spring GfK MRI). This is due, in part, to the fact that Country has been influenced by both Pop and Rock styles to gain mass appeal. Cumulus' Country programming is broadcast on 76% percent of all Country radio stations nationwide.
For more information about the NASH Next 2017 finalists and finale event on November 1st at the Wildhorse Saloon in Nashville, and to hear some of the finalists' music, please visit: http://www.nashnextpresents.com.
NASH Next is sponsored nationally by Country Inns & Suites By CarlsonSM.
About Nash Next 2017
Since the seven-month-long national competition was announced in May by seven diamond award winner and the reigning CMA Entertainer of the Year Garth Brooks, 79 NASH/Cumulus stations in 62 markets, including Dallas, New York, Atlanta, Detroit and Nashville, have conducted local searches for emerging artists, with additional national participation made possible by Cumulus' digital properties and syndicated Country shows. Local artists entered the competition via the NASH Next website, participating local station websites, and NashCountryDaily.com. Three local music industry professionals, as well as listeners in their communities, rated each competitor's original song. Local markets then hosted local live events or selected their finalist by judging the contestants in a video performance of that original song. Local winners moved on to the national challenge, submitting a live performance video showcasing their best original song, with the Top 10 artists selected by a panel of Country radio professionals.
About Cumulus Media
A leader in the radio broadcasting industry, Cumulus Media combines high-quality local programming with iconic, nationally syndicated media, sports and entertainment brands to deliver premium content choices to the 245 million people reached each week through its 446 owned-and-operated stations broadcasting in 90 US media markets (including eight of the top 10), approximately 8,000 broadcast radio stations affiliated with its Westwood One network and numerous digital channels. Together, the Cumulus/Westwood One platforms make Cumulus Media one of the few media companies that can provide advertisers with national reach and local impact. Cumulus/Westwood One is the exclusive radio broadcast partner to some of the largest brands in sports, entertainment, news, and talk, including the NFL, the NCAA, the Masters, the Olympics, the GRAMMYs, the Academy of Country Music Awards, the American Music Awards, the Billboard Music Awards, Westwood One News, and more. Additionally, it is the nation's leading provider of country music and lifestyle content through its NASH brand, which serves country fans nationwide through radio programming, exclusive digital content, and live events. For more information, visit http://www.cumulus.com.
About Country Inns & Suites By CarlsonSM
Country Inns & Suites By CarlsonSM is a leading upper midscale hotel brand with over 480 hotels in the United States, Canada, India and Latin America. The brand's Be Our Guest service philosophy encourages employees to serve guests with the same kind and caring spirit given to friends when they are being hosted at home. Signature brand amenities include free high-speed Internet, complimentary hot breakfast served on classic dining ware, fitness centers, a Read It & Return Lending LibrarySM and business centers.
Country Inns & Suites By Carlson is a part of Carlson Rezidor Hotel Group, which also includes Quorvus Collection, Radisson Blu®, Radisson®, Radisson RED, Park Plaza® and Park Inn® by Radisson. For reservations and more information visit, http://www.countryinns.com. Connect with Country Inns & Suites By Carlson on social media: @CountryInns on Twitter and Facebook.com/CountryInns
About Big Machine Label Group:
Led by Founder, President and CEO Scott Borchetta, the Big Machine Label Group encompasses Big Machine Records, The Valory Music Co., BMLG Records, Nash Icon Records and publishing company Big Machine Music as well as its own digital radio station, Big Machine Radio. BMLG artists include superstars Taylor Swift, Rascal Flatts, Reba McEntire, Florida Georgia Line, Thomas Rhett, Brantley Gilbert, Hank Williams Jr., Ronnie Dunn, Cheap Trick and Jennifer Nettles; chart-topping acts Justin Moore, Eli Young Band, Brett Young, Aaron Lewis, Midland, The Voice winner Danielle Bradbery; up-and-comers Carly Pearce, Delta Rae, The Cadillac Three, Drake White, Tucker Beathard, Tara Thompson, Alex Williams and Josh Phillips. BMLG also helms soundtracks for the hit TV show "NASHVILLE." BMLG artists have received multiple GRAMMY, CMA, ACM, AMA, CMT, Teen Choice, MTV, Billboard, People's Choice and Brit Awards. Big Machine is the first-ever American label to align with terrestrial radio for performance royalty rights for its artists and is an industry leader in fighting for artist, songwriter, publisher and record company rights. Visit http://bigmachinelabelgroup.com for more information.
Media Contact:
Dixie Owen
615-440-6171
Dixie(at)AllTheBuzzLLC(dot)com