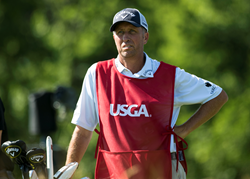 Charlotte, NC (PRWEB) October 31, 2017
ClubUp, a North Carolina based software and services company that caters to golf clubs operating caddie programs, has announced the addition of Jim "Bones" Mackay to the company's Board of Advisors.
Mackay has caddied for Larry Mize, Scott Simpson, Curtis Strange and Phil Mickelson, winning 41 PGA Tour events and 5 Major Championships with Mickelson. Since retiring from his role as a tour caddie, Mackay has started working as on-course reporter for NBC and The Golf Channel where he relies on his years of caddie experience to provide unique insight to the viewership.
"Bones brings invaluable experience to ClubUp. His presence in strategy discussions and input into system upgrades gives a view and mindset we previously did not have. Everyone involved with ClubUp, including our current club partners, investors and Board members, are thrilled that Bones is joining the ClubUp Team.", said ClubUp founder and CEO Matthew Rose
Mackay will be a strong addition to the ClubUp advisory board, which already consists of former USGA President Jim Hyler, Charlotte Country Club Head Golf Professional Andrew Shuck and Red Ventures Executive Rodney Sims. The ClubUp Board of Advisors will play a key role for ClubUp as the company continues to grow into new markets and also explores strategic partnerships for the future.
About ClubUp
ClubUp is a technology company that partners with golf clubs with operational caddie programs as well as with clubs looking to start their own caddie programs. Using the ClubUp Advance system, golf clubs can request, schedule and monitor payment of their caddie pool while ensuring the caddies remain independent contractors at the club. Using technology to improve efficiencies and mitigate risks at partner clubs, ClubUp works closely with a golf club's outside services staff to customize the system for specific club needs. ClubUp also uses a national partnership with The First Tee to recruit caddies to work at ClubUp partner clubs, which provides great opportunities for young people and helps establish great caddie programs built for the long term at the clubs.
ClubUp recently announced expansion beyond current operations in North Carolina into Arizona and Texas to begin working with elite clubs such as Desert Mountain Club in Scottsdale and Preston Trail Golf Club in Dallas. ClubUp plans to expand into additional markets in new regions during 2018.