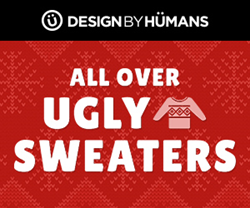 The ugly Christmas sweaters are so warm and cozy and they just feel like you're wearing Christmas! I love them!
CHICO, Calif. (PRWEB) November 01, 2017
The weather outside is frightful, but the DBH Ugly Sweater Collection is delight…wait, these are ugly! Santa's elves have been hard at work in the Design By Humans workshop to create the perfect "ugly" Christmas sweater styles for the holiday office party. DBH called on its community of artists to channel their Christmas spirit and design delightfully ugly patterns to make the merriest sweaters of the season. Get ready to deck the closet halls with festive Christmas outfits from the new Ugly Christmas Sweater Collection.
The 1st Place winner, Ramarama, from California, U.S.A., created a perfect sloth-inspired ugly Christmas sweater pattern. An adorable sloth drinking champagne is printed across the front and back for a perfect all-over style that will be sure to warm the heart – slowly, in true sloth-like fashion – and be the hit of every ugly Christmas sweater party. DiegoPedauye from Madrid, Spain takes home 2nd Place with a Christmas design that serves as a reminder that it doesn't matter what planet someone is from because everyone – even aliens – love Christmas. The artist mj00, also from the U.S.A., received 3rd Place with the "Gingerdead Sweater" a fun gingerbread design that adds a little spice to the season's favorite Christmas cookie. So be sure to get those mittens on a unique DBH ugly Christmas sweater and go dashing through the snow in style this holiday season. Check out the festive new Ugly Christmas Sweater Collection here:
https://www.designbyhumans.com/shop/ugly-christmas-sweater-collection/.
Christmas is the season of giving and the DBH community of artists is giving the gift that keeps on giving: the ugly Christmas sweater! Whether you are sipping eggnog at an office party or just decorating the Christmas tree, no one will want to miss out on these funny and cheerful designs. Explore the DBH selection of jolly all over sweaters to find designs inspired by retro video games, delicious cheeseburgers, or Christmas cats. Everyone will be sure to find a perfect stocking stuffer or maybe even a gift for that certain special someone from under the mistletoe.
Design By Humans' Customer Service Representative, Marie Murray, shares, "The ugly Christmas sweaters are so warm and cozy and they just feel like you're wearing Christmas! I love them!" Christmas is just around the corner so start thinking about what to ask Santa for this year; it's time to add a DBH ugly Christmas sweater to the Christmas list. And just remember: if there is a Design By Humans' ugly sweater under the Christmas tree, then Santa put you on his "Nice" list!
About Design By Humans
Design By Humans offers a platform for artists, gamers, and YouTubers to create and showcase their unique artwork as phone cases, wall prints, and fashionable tees, tanks, and more. With 10 years of experience, Design By Humans has woven a shared spirit that thrives on designing vibrant and meaningful art. To learn more about the vision, please visit: https://www.designbyhumans.com/.
DBH works to build an environment that respects collaboration, quality, integrity, and the entrepreneurial spirit. The DBH Collective is inspired by the comical as well as the abstract, the imagined and the concrete; and works to create innovative art that is an expression and a reflection of today's society.
We are gaming fiends, cat-enthusiasts, and pop culture fanatics. Most importantly, however, we are a passionate team of independent creators who buzz for the next buzz word, whistle as we work, and create designs that inspire the next generation of trendsetters from around the world.
To become a part of the Design By Humans community and submit designs today, we encourage you to visit: https://www.designbyhumans.com/become-an-artist/ and learn more!
Follow Design By Humans on Facebook at /DesignByHumans, on Instagram at DesignByHumans with #designbyhumans, and on Twitter @DesignByHumans.