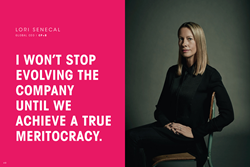 I'm presenting these portraits as a statement to challenge conscious and unconscious bias.
(PRWEB) November 01, 2017
Participants in the series include Cindy Gallop, founder of If We Ran The World and Make Love Not Porn, Lori Senecal, Global CEO for CP+B and Nilofer Merchant, Fellow at The Martin Prosperity Institute on "New Power." The dramatic portraits are set next to statements describing how these subjects will create change for females in advertising.
Women control 73% of consumer purchasing and $20 trillion of the world's annual consumer spending. Until The 3% Conference came along in 2012, only 3% of creative directors were women. Today the number has grown to 11%.
Ms. Nialla utilizes the portrait series as a call for gender-balanced leadership with women's and men's contributions valued equally. The series emphasizes the subject's strength and beauty with the use of dramatic lighting and a clean background. With this technique, Ms. Nialla forces the viewer to see the subject's femininity and power without distractions.
About Sasha Nialla
Ms. Nialla was raised in California and spent the last 17 years in New York City. As a photographer for 11 years, Ms. Nialla has been continuously getting involved in photography projects that bring awareness to different causes and life experiences, including; children with HIV/AIDS, diabetes, Iraq war survivors and many more. All these projects have resulted in supporting vulnerable groups and people, and those not exposed to these situations in their everyday lives. Highlights include multiple billboards in Times Square for Bideawee, standees of breast cancer survivors with NFL players in Kroger supermarkets and on PepsiCo and Gatorade packaging, a photo exhibition of women immigrants with New Women New Yorkers and an exhibition of cancer survivors in the NYU Langone Medical Center art gallery.
For more information and press images please contact Dana Friedman: info(at)sashanialla(dot)com - http://www.sashanialla.com - 917-776-5349