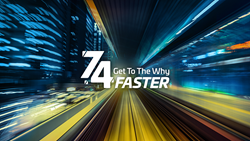 This represents a major step in solving the problems enterprises face in answering not only what happened, but why.
MELBOURNE, Australia (PRWEB) October 31, 2017
Yellowfin BI today announced availability of Yellowfin 7.4, a revolutionary step in business intelligence and analytics. While other BI tools can tell you what happened, Yellowfin 7.4 uses machine learning, human collaboration, and automation to help people get to why something happened significantly faster.
"This represents a major step in solving the problems enterprises face in answering not only what happened, but why," states Yellowfin CEO Glen Rabie. "There are automation tools within Yellowfin 7.4 to accelerate decision-making across the organization, allowing people to get to 'Why?' faster. Combined with our new data transformation capabilities make Yellowfin 7.4 a complete, end-to-end analytics platform."
Three key enhancements
There are three main enhancements in Yellowfin 7.4 that make this a complete end-to-end analytics platform. Automated insights allow business users to automatically discover why something happened without adding to data analysts' workload. A key component of automated insights is assisted data discovery that delivers to data analysts the most relevant and meaningful results from their queries, so that analysts don't have to spend hours looking for pertinent data. Data transformation enable data stewards to transform their data to meet enterprise requirements and deliver more trustworthy data faster. And enabling advanced analytics to bring data-science models into Yellowfin to be utilized within the corporate reporting platform faster.
Automated insights deliver true self-service
The key to adoption and success with business users is not to make them be their own data analysts. Rather BI should provide the information and ability to dig into the data and get to the reasons why something happened, not just what happened. Automated insights within Yellowfin 7.4 allows business users to take advantage of built-in machine learning and complex algorithms, to get to the why faster.
Assisted data discovery helps analysts clear backlog
Because data analysts spend much of their days creating reports and recreating reports to answer questions, almost all of them have a backlog of work. To clear this backlog, they need the assisted data discovery component of automated insights in Yellowfin 7.4, which allows them to pose their questions and have meaningful results provided instantly. With these automated results, analysts can quickly refine and interpret results. This allows data analysts to add greater value by supporting business users in getting to the why faster.
Data transformation speeds access to answers and true self-service
The data transformation capabilities within Yellowfin 7.4 allow data stewards, IT, or data analysts to do the most common transformation tasks, as well as hook into web connectors like Salesforce and Google Analytics using a drag-and-drop graphical interface. By helping people clean, blend, enrich, and transform data without learning a scripting language, an enterprise can get to insights faster and more cost-effectively and with less complexity, because their transformation tool is completely integrated with their analytics platform.
Moving data science models into production faster delivers a competitive advantage
Data scientists typically use very specific toolsets to create their models that often never see the light of day in the enterprise. Yellowfin 7.4 unites data-science models, corporate data, and the different business units together through one analytics platform, so that new data-science models can be quickly utilized throughout an organization. Yellowfin 7.4 also helps data scientists develop analytical applications faster, using app integrations like R, Python, PMML, PFA, and H2o.ai support.
Developed by users for users
"I joined Yellowfin specifically to create the product I've always needed during my career on the customer side of the business," says Yellowfin CTO (and former Head of Procurement Operations at National Australia Bank) Brad Scarff. "Automating insights allows both analysts and business users to work smarter and get to the answers they need faster. And the IT-oriented tools ensure that IT control access and governance, which results in more trustworthy data and better decision making by all."
About Yellowfin
Most BI companies can tell customers what happened. Yellowfin tells them why it happened. Yellowfin is a global Business Intelligence (BI) and analytics platform dedicated to solving real enterprise analytics challenges, and helping business people understand not only what happened, but why. Founded in 2003 in response to the complexity and costs associated with implementing and using traditional BI tools, Yellowfin is a highly intuitive, 100-percent Web-based reporting and analytics platform. Yellowfin has been included in four consecutive Gartner Magic Quadrants, the Forrester Wave, and consistently scored as a leader in key categories of the BI Survey from BARC. More than 25,000 organizations, and more than three million end-users across 75 different countries use Yellowfin every day.
For more information about Yellowfin BI, visit http://www.yellowfinbi.com.
For product-specific information, please visit https://www.yellowfinbi.com/platform/whatsnew.
For further media information, interviews, images or product demonstration, please contact:
North America:
Deborah Salmi
Social & Digital Marketing Director
deborah.salmi(at)yellowfin(dot)bi
+1-844-424-5678 x 126
EMEA:
Tom Campbell
Global Marketing Operations Manager
tom.campbell(at)yellowfin(dot)bi
+44 (0)1908 887 233
APAC:
Craig Panigiris
Marketing Director - APAC
craig.panigiris(at)yellowfin(dot)bi
+61 (0) 423 493 098