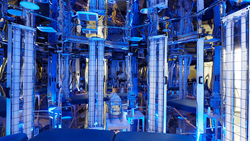 More than 50,000 Blu Room sessions have been experienced around the world.
OLYMPIA, Wash. (PRWEB) November 01, 2017
Active duty and retired military veterans are welcome to try to the Blu Room at three locations in the Olympia, Washington area and one near St. Louis, Missouri at free or reduced prices for the month of November.
The Department of Veterans Affairs estimated up to 30% of Vietnam Veterans have experienced PTSD in their lifetime. Most scientists and the public agree on the benefits of relaxation. Peer-reviewed medical studies on meditation from Johns Hopkins and UCLA confirm the healing powers such as increased attention span, improved memory, relieving anxiety and depression, pain relief, and spurring creativity.
The Blu Room is a new treatment combining technology, music and narrowband UVB light therapy. The Blu Room sessions consist of 20 minutes of deep relaxation inside a futuristic octagon bathed in blue and UVB light technology to produce some of the same results noted in the studies above. The Blu Room is a non-invasive, non-surgical practice. It's not a tanning device, users wear regular clothing.
Locations, along with the special offers for veterans, include the following:

Washington, Missouri – Blu Room Wellness Center. 1807 Heritage Hills Drive, Washington, MO 63090. Complimentary session to all veterans and their spouses for November. All military and first responders receive 50% off, $30 instead of $60, per session. 636-432-1731, bluroomwellness(at)gmail(dot)com, bluroomwellnesscenter.com.
Yelm, Washington – Shiva Blu LLC. Two free Blu Room sessions per week for any active duty military veteran or retired veterans with a PTSD diagnosis. 360-458-5224 or terris(at)shivablu(dot)com
Yelm, Washington – The U Wellness Center. 301 East Yelm Avenue, 98587. 360-400-5900 info(at)theuwellnesscenter(dot)com, Theuwellnesscenter.com. Two no-cost sessions for veterans in November.
Olympia, Washington – Absolute Health Clinic. 2401 Bristol Court SW, 98502. 50% off for all veterans, $30 instead of $60. 360-350-0539, absolutehealthwa.com, lorena.abosolutehealth(at)gmail(dot)com.
Some journalists have reported on the benefits of the Blu Room, including The Seattle Post Intelligencer: "Bottom line: the Blu Room beats being 'over-medicated' and may in fact be a solution, much like it is for Dale and Dave. Over 40,000 individuals have reported a wide range of personal benefits – and I do know that I benefited from my short 20-minute session."
The Hill, a non-partisan political newsletter based in Washington, DC noted: "Good news. A new treatment is inching its way into treatment for "PTSD" and no, it isn't yoga or meditation at a Tibetan monastery. Can the VA use this new treatment to help thousands of PTSD victims? Speaking as a 'rough, tough' former United States Marine any treatment that includes music, meditation, relaxation and soft lighting seems 'touchy and feely' but…there is evidence a high tech combination of all those items seem to help some people with PTSD."
Meditation Daily mentioned the Blu Room as one of many alternative therapies used to treat the symptoms of PTSD. "(It's) a new invention that is offering significant relief to individuals with PTSD. At first glance, the Blu Room looks like it belongs in outer space. When individuals step inside this octagon-shaped room, they are surrounded with blue UV-B rays. During each 20-minute session, the user basks in the light waves while listening to soft music and experiencing other relaxation techniques."
Two combat veterans with PTSD in the Olympia, Washington area have enjoyed remarkable results. Cynthia Williams-Patnoe, a pilot who served in Afghanistan, returned home from the war and was struck by a pickup truck, suffering a traumatic brain injury. After trying physical and speech therapy, she started Blu Room treatments. "The Blu Room was very peaceful and therapeutic," Williams-Patnoe says. She went 3-4 times per week, for 20 sessions. "My short-term memory was coming back thanks to the Blu Room sessions."
Dale Vaughn, a Vietnam veteran, experienced years of nightmares and was diagnosed with PTSD. He began using the Blu Room in late 2016. "It feels like I'm going to a place of peace, Vaughn says. "The more you do that and stay in that you feel extremely loved and supported. You don't feel judgmental toward yourself, you feel healthy and happy. That's what I feel about it."
ABOUT THE BLU ROOM
The Blu Room is a patent pending technology that shields users from the outside world, wrapping them in an atmosphere of soft ultraviolet light. Since the brain isn't busy responding to the stimulus of the everyday environment, it is free to relax, free associate or hold a relaxed state of focus without distractions. The Blu Room is useful for anyone who wants to step out of their daily environment including children, the elderly, the military, and many others, promoting deep relaxation. A 20-minute Blu Room session provides a natural "high" that can create a whole-body healing effect. In the U.S., Blu Rooms can be found in Yelm, Washington; Olympia, Washington; and Washington, Missouri near St. Louis. New locations will be opening soon in Mercer Island Washington (December, 2017) and in Salt Lake City, Utah and Ocala, Florida in 2018. For more information: http://www.bluroom.com or mikew(at)bluroom(dot)com.