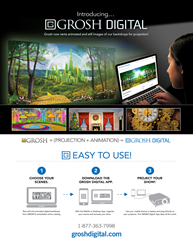 GroshdDigital.com is a direct response to the increasing number of customers who want to rent backgrounds in a digital format to project behind their performers
LOS ANGELES (PRWEB) November 01, 2017
A breathtaking African sun landscape or a package of Wizard of Oz scenes can now be quickly downloaded and projected at your next show, production or event through a new digital website and desktop app just launched by Grosh Backdrops & Drapery.
GroshDigital.com went online October 4, 2017.
It enables people to easily download incredible high-quality scenic images and animations which can be mixed and matched for school events, theaters, dances, parties, special occasions or productions. The growing catalogue already offers approximately 350 digital backdrops and animations. Grosh is also finalizing a mobile app in which customers can use their mobile device to connect a projector and run their performance.
Hollywood-based Grosh is well known for its large stage and theater backdrops and drapery. GroshdDigital.com, however, is a direct response to the increasing number of customers who want to rent backgrounds in a digital format to project behind their performers, said Amanda Uhlein, Grosh Backdrops & Drapery President.
"It's an alternative for people without a fly space in their theater or who don't have the space to hang multiple backdrops," Uhlein said. "Digital backdrops are also less expensive to rent than the hand-painted ones and there are no shipping charges."
There are some other advantages with the digital backdrops too, such as an unlimited inventory.
"There is no availability impact with a digital image unlike with painted backdrops," Uhlein said.
Customers using digital backdrops, however, will need to ensure they have a projector with at least 5,000 lumens, a proper cable to connect to the projector, the Grosh app, and a person who is comfortable operating the system, she said.
The new technology is being embraced by Grosh's new and long-time customers. They applaud the new digital website and app for giving them productions they never thought possible.
"Lots of our customers use both painted and projected scenery in their shows," Uhlein said. "With our large selection of traditional backdrops and new digital options, we are a one-stop shop for any customer wanting to use both types of scenery."
The excitement over the new digital website and app, however, doesn't mean Grosh is abandoning its roots.
"Grosh continues to design and paint over 100 new backdrops a year and we continue to rent thousands of traditional backdrops every year," she said. "We recognize how quickly technology can change an industry, but, Theater seems to lean on tradition quite a bit. Grosh is still very much in the business of providing the best quality backdrops -- either hand painted or digital -- and we plan to enjoy another 80 years of success."
Go to http://www.groshdigital.com to see array of options, prices and frequently asked questions about content, hardware and how it all can work in your production.
Grosh Backdrops & Drapery is among Hollywood's longest supporting partners. Grosh provides the highest quality themed and theatrically produced hand-painted backdrops for professional stage productions, dance recitals, school performances or corporate parties. Grosh also offers an excellent drapery selection including rain curtains, Austrian puffs and velour drapery panels. You can visit http://www.GROSH.com to see the full line of products and services.