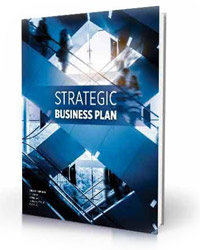 (PRWEB) October 30, 2017
Wise Business Plans, the country's leading online, full-service business plan provider, is pleased to announce the addition of strategic business plans to its offerings. The service is the first in a new line of services aimed at offering clients increased options for supporting their success.
"The differences between a regular business plan and one that is specifically aimed at a strategic objective can be difficult to grasp if you haven't had to create them both," said Joeseph Ferriolo, director of Wise. "But focusing with precision on a strategic objective can make or break the kinds of major goals and projects that set growing businesses apart from those that are stagnant."
Along with custom-tailored business plans, a host of concierge service partners and a full-service graphic design team, Wise also offers web design, industry research packages and other support products to clients across the world.
"We've always been proud of the ways we support business owners who are committed to meeting their objectives efficiently," added Ferriolo. "This new strategic business planning product is a big part of that commitment, and it's something we've been doing at the request of individual clients for a long time. We're excited to take the great experience we've got in this kind of planning and offer it to everyone."
Unlike a classic business plan, which offers a complete snapshot of your business and its overall future, a company strategic plan points the way forward for initiatives in a distinctive time-frame. The two kinds of plan work hand-in-hand in a growing business, said Ferriolo.
"Without goals and initiatives, your company can't grow or evolve," he said. "Supporting your overarching business plan with one that outlines the necessary steps to reach major goals and milestones just makes good sense."
Wise offers personal consultation to those hoping to discover whether a strategic plan is the right product for their business.
"We're not here to pressure you or sell you something you don't need," Ferriolo added. "We're here to help you succeed. That why we're always adding new products and services; we know that your needs are as unique as your company, and we want to help you find the planning product that's the perfect fit."
Wise Business Plans (http://www.wisebusinessplans.com), staffed with professional MBA writers, researchers and financial experts, is a trusted partner for businesses across a broad spectrum of products and services. Our mission is to empower our clients to make the best possible business decisions, boost company performance and facilitate their funding success by laying the groundwork for strong businesses that excite, inspire and retain talented and exceptional employees.