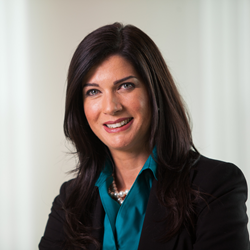 Carmen's ability to run a team and rally those around her has helped SCCU reach new heights since the merger with EFFCU.
MELBOURNE, Fla. (PRWEB) October 31, 2017
Space Coast Credit Union is pleased to announce the promotion of Carmen Tapanes to vice president of retail services, south Florida.
Tapanes began her career in 1990 as a teller with what was then Eastern Florida Financial Credit Union; and she became an employee of Space Coast Credit Union when the two credit unions merged in 2009.
Tapanes was a key contributor during the merger, integrating the two corporate cultures and helping SCCU expand its brand into the Palm Beach, Broward, and Miami-Dade markets. It was during this time that SCCU's Members' Watchdog was first introduced, the unique value proposition that differentiates the credit union by promising to protect its members in all aspects of their financial lives.
After quickly being promoted to area manager in 2010, Tapanes was promoted again to director of retail services of the Miami-Dade region in 2012. In this role, she spent the next five years expanding SCCU's physical footprint and brand awareness throughout Miami, opening three new locations in 2017 alone.
Outside of her significant contributions in the retail space, Tapanes also played several important roles in SCCU's core systems upgrade last fall, and she has championed the credit union's United Way campaign the past two years, generating over $150,000 in employee and company donations.
"Carmen's ability to run a team and rally those around her has helped SCCU reach new heights since the merger with EFFCU," said SCCU chief of retail delivery and executive vice president Heather Hickman. "Whether it's introducing a new branch location or leading a special task team, her creative mindset and enthusiasm for protecting our members' best financial interests shine through in every new challenge she takes on. I am certain this new chapter in Carmen's career at SCCU will be no different."
In her new role, Tapanes will oversee the credit union's branches and membership within Miami-Dade, Broward, and Palm Beach counties.
About Space Coast Credit Union
Space Coast Credit Union was chartered in 1951 and is headquartered in Melbourne, Florida. The credit union serves more than 375,000 members with assets of over $3.9 billion through a network of 58 branches and over 100 ATMs located along the state's east coast. Membership is open to anyone who lives or works in the fourteen counties SCCU operates.