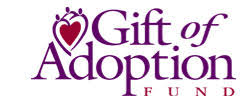 "Gift of Adoption helps give vulnerable children a permanent home and a chance to thrive," said Gift of Adoption CEO Pam Devereux. "We're extremely excited to launch this campaign that recognizes the financial hurdle families must overcome to bring their children home."
CHICAGO (PRWEB) November 01, 2017
This November, Gift of Adoption, a national nonprofit that provides financial assistance to families hoping to adopt, is celebrating National Adoption Awareness Month with its first nationwide social campaign that highlights the last hurdle many families face when adopting – finances. Celebrities and athletes are participating to show support for the organization that is removing financial barriers for qualified parents to move forward with adoption.
"Gift of Adoption helps give vulnerable children a permanent home and a chance to thrive," said Gift of Adoption CEO Pam Devereux. "We're extremely excited to launch this campaign that recognizes the financial hurdle families must overcome to bring their children home."
Multiple celebrities and athletes with ties to the cause have signed on to help kick-off the campaign, including Olympic ice skater, Scott Hamilton, Disney actress Cassidy Mack, Olympic marathoner Ryan Hall, and more. The social campaign, which asks participants to share a photo or video of themselves, families or friends overcoming a "hurdle" in their own lives, can be done by anyone and everyone that wants to help unite families, encourage donations and spread awareness about the need for adoption. The "hurdle" can be as simple as leaping through a pile of freshly raked leaves, or jumping over a stream on a family hike. The "hurdle" theme is unique, visual and actionable, and can be done a number of creative ways. Supporters can tag their post with #MyGOAHurdle to participate.
In addition to the social campaign, Gift of Adoption will be hosting a number of fundraising events with their 20 chapters across the country throughout November, including local Tapping Parties at multiple Rock Bottom Brewery locations. Volunteer groups will also be delivering Adoption Day celebration kits to help previous grant recipients mark the anniversaries of their adoptions. All funds raised go directly benefit Gift of Adoption's efforts to help the more than 135 million orphans in the world find their forever families. To learn more about the social campaign and the celebrations this November, visit http://www.giftofadoption.org/november.
About Gift of Adoption
Gift of Adoption Fund is a national 501(c)3 charity that provides grants of up to $7,500 to U.S. families adopting children born in the U.S. and around the world. Gift of Adoption prioritizes grants for the most vulnerable children facing what is possibly their last or only chance at adoption. This includes families who are working to reunite or keep siblings together and those adopting children with critical medical conditions. Visit http://www.giftofadoption.org to learn more about how to put adoption within reach for children in need of families.
Note to Reporters/Editors: We can arrange interviews and provide photos of adoptive parents and organization officers/board members who are willing to be interviewed.