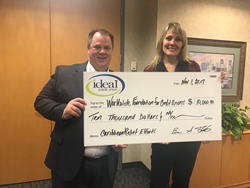 I am extremely grateful for the generosity of our members, employees, board of directors and others who opened their hearts and wallets to donate to this important cause. - Ideal CU President/CEO Brian Sherrick
WOODBURY, Minn. (PRWEB) November 03, 2017
To raise funds to help areas in the Caribbean devastated by Hurricane Irma, Ideal Credit Union, in partnership with the Worldwide Foundation for Credit Unions, launched a two-week drive from October 6-20, 2017, to encourage donations from members, employees and the community at large, and pledged to match up to $2,500 of the money collected.
In two short weeks, not only was the goal met to raise $2,500, but more than $5,000 was donated to support Caribbean relief efforts. At its October meeting, the Ideal CU Board of Directors voted to double the match to $5,000, resulting in a $10,000 donation to the Worldwide Foundation for Credit Unions, which is the official fundraising arm of the World Council of Credit Unions. Credit unions in the Caribbean and their 100,000 plus members have suffered significant loss and the World Council has pledged to provide immediate relief to support rebuilding efforts.
"I am extremely grateful for the generosity of our members, employees, board of directors and others who opened their hearts and wallets to donate to this important cause," said Ideal CU President/CEO Brian Sherrick. "I applaud the World Council for its work to provide relief to those impacted by the hurricane, and thank them for the opportunity to join in and support these efforts."
In September, Ideal CU employees rallied internally to collect donations to purchase cleaning supplies for victims of Hurricane Harvey in Houston, Texas. The Ideal CU Board of Directors again matched the amount raised, and $2,000 was sent to help fill a trailer worth of brooms, mops, sponges and more.
Founded in 1926, Ideal Credit Union is a member owned financial institution that specializes in providing excellent member service, great rates and convenience to over 52,000 members. Ideal CU offers a complete range of services, including a full suite of electronic banking products, savings, checking, loans, mortgage products and title services, exclusive VIP member payback, business services, investment services and more. Offices are located in Eagan, Hugo, Inver Grove Heights, North St. Paul, Stillwater and Woodbury. Visit idealcu.com for details and directions.
World Council of Credit Unions is the global trade association and development agency for credit unions. World Council promotes the sustainable development of credit unions and other financial cooperatives around the world to empower people through access to high quality and affordable financial services. The Worldwide Foundation for Credit Unions is the World Council's official fundraising and gift-receiving organization. Contributions to the Worldwide Foundation help advance efforts to create long-lasting opportunities for communities worldwide. In particular, funds support World Council's development programs, International Partnerships Program, Global Women's Leadership Network, disaster relief and member education and training. Learn more at https://www.woccu.org.