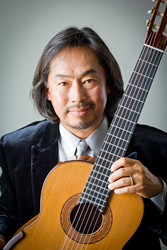 "Denver continues to blossom as a cultural hub, and Masa's performance will continue that tradition. He is a unique talent, a true creative force and a musical ambassador who embodies everything the city stands for," - Eric Leopardi
Denver, CO (PRWEB) October 30, 2017
Internationally acclaimed concert guitarist Masakazu Ito and Denver-based branding agency The Micc Group – two talents known for striking the perfect chord with technical precision and creative expression – are coming together to make 2018 a bit more magical.
Ito, winner of top prizes in competitions in Asia, North America and Europe, including the Andres Segovia International Guitar Competition, is best known for his sensitive interpretations of the works of Japanese and Italian masters as well as his own compositions. He is a featured guitarist on Kitaro's album, Thinking of You (Domo Records), which won a 2001 Grammy as Best New Age Album.
Ito will perform at a series of U.S. concerts designed, booked, marketed and managed exclusively by The Micc Group, one of Eric Leopardi's many successful ventures. While concert dates and venues have yet to be finalized, Leopardi, The Micc Group's founder and chief executive officer, said likely tour stops include Parker, Colo., Washington, D.C. and Scottsdale, Ariz.
Leopardi, who is no stranger to creativity and artistic expression himself – he is an accomplished television writer, producer and director as well as a voice talent represented by the prestigious William Morris Endeavor agency – said the Parker tour date marks another milestone for the Denver market.
"Denver continues to blossom as a cultural hub, and Masa's performance will continue that tradition. He is a unique talent, a true creative force and a musical ambassador who embodies everything the city stands for," Leopardi said. "The Micc Group is thrilled to partner with such an outstanding artist as part of our collaborative approach to project management and development in the entertainment and promotional industries."
About The Micc Group: Born to create and driven to achieve, The Micc Group is a Denver-based full-service marketing and branding agency founded and managed by prolific entrepreneur and television personality Eric Leopardi. Since 2010, The Micc Group has provided digital design, development and brand management services for world-class clients around the globe.