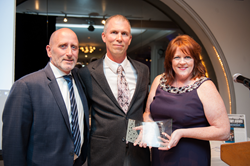 Not often do you get to combine a lifelong dream with helping a cause that means a lot to you, but that is what I did this summer.
Tarrytown, NY (PRWEB) October 31, 2017
As the premier providers of sports healthcare and integral members of concussion management teams, athletic trainers (ATs) are on the front lines of recognition and appropriate management of sport-related concussions, a type of traumatic brain injury (TBI). One NYS athletic trainer took his passion for TBI awareness to a whole new level, by completing a trans-America cycling trip to bring attention to this issue and raise funds for the Brain Injury Association of NYS (BIANYS). NYSATA would like to recognize member Doug Sawyer, MS, ATC for his determination and perseverance in completing the nearly 3,500 mile ride and raising nearly $5,000 for charity. Traveling with a friend who was also riding for charity, Sawyer cycled over 240 hours during the one-month-long trip, beginning in Portland, Oregon on July 9, 2017, riding west to the Pacific Ocean, then turning east and arriving in New York, New York on August 10, 2017.
"Not often do you get to combine a lifelong dream with helping a cause that means a lot to you, but that is what I did this summer," says Sawyer. "As far back as I can remember, I have wanted to ride across our country on a bike, unsupported. When the chance finally came along, I felt the need to do it for more than just myself. As an AT and a cyclist/triathlete I've known so many people that have suffered TBIs - concussions - and raising awareness and money for them just seemed right."
The trip took the cyclists through ten states, a range of temperatures from lows in the mid-40s to highs exceeding 120-degrees, and up to elevations of over 11,000 feet. Pulling a 60-pound trailer of supplies added a challenge, as did the various flat tires, other mechanical failures and a few crashes that could have easily landed them in the hospital was it not for wearing their properly fitted helmets. "The second to last day of the ride, while crossing some wet train tracks, I crashed. My head hit the road hard, but my helmet saved me from a trip to the ER and probably a TBI. The bruising from the crash made our final day of riding, 135 miles, into NYC challenging, but we made it," Sawyer explains. "Finishing and seeing my wife was an incredible feeling. We met some wonderful people who helped us in many ways during our ride. It was the experience of a lifetime, and though tough at times, it was very rewarding knowing I was helping others along the way."
For his efforts, Sawyer was honored by the BIANYS as their 2017 Champion of Hope Award recipient, presented at the 10th Annual Journey of Hope Gala on Wednesday, October 4 in New York, NY.
Donations can still be made to this charity fundraiser for BIANYS.
NYSATA, founded in 1976 and incorporated in 1989, stands to advance, encourage and improve the profession of athletic training (AT) by developing the common interests of its membership for the purpose of enhancing the quality of healthcare for the physically active in NYS. Athletic training is practiced by certified athletic trainers (ATs), who have expertise in the assessment, emergency management, rehabilitation and prevention of acute and chronic sport-related injuries, illnesses and conditions, including concussions. Comprised of over 1,200 certified and practicing athletic trainers, NYSATA is the state-wide affiliate of the regional Eastern Athletic Trainers' Association (EATA) and District Two of the National Athletic Trainers' Association (NATA).