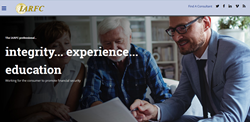 The new website is just part of the Association footprint we are improving and upgrading...Chairman H. Stephen Bailey, MRFC.
Middletown, OH (PRWEB) October 31, 2017
With this dual purpose in mind of serving the professional and consumer, the website has been improved in overall ease of use, visual appearance and pertinent information relating to the IARFC and what it has to offer.
To those in the financial services profession who are seeking designations, the website succinctly explains the mission of the IARFC and how to become a member of the Association on various levels of education and experience in the form of the Registered Financial Associate (RFA), Registered Financial Consultant (RFC®) and Master Registered Financial Consultant (MRFC). To those in need of a financial professional, the website connects consumer to consultant via the "Find a Consultant" feature clearly displayed on the home page.
"Our new website brings a fresh appearance to the professionalism of our Association and its members," remarked IARFC Operations Manager, Charlotte Isbell. "Our main goal was that consumers and professionals could easily navigate the site and find the information they need."
One very impressive upgrade is the use of the Ethics Approved Seal. The seal is displayed on the qualified member's profile that is visible to the public. This gives the consultant "added credibility" to those seeking professional services.
At the revamped IARFC store, shoppers will find formatted displays of products and a convenient check out process. Additionally, the website is a portal to the International chapters. Overseas international member profiles are included in the member database to recognize financial professionals from any country who have obtained the Registered Financial Consultant designation (RFC®).
"The IARFC strives to be pertinent to its members and the public both domestic and international," states IARFC Chairman H. Stephen Bailey, MRFC. "The new website is just part of the Association footprint we are improving and upgrading."
For a more in depth tour of the IARFC website, visit http://www.iarfc.org. The Education & Events menu item will take you to the 2018 IARFC Biltmore Conference April 17 & 18 in Asheville, NC. for attendee registration, agenda, specialty tours and exhibitor information. Overnight stay on the estate at the Village Hotel or the Inn is available at a special conference rate. Lodging is limited – early registration is encouraged.