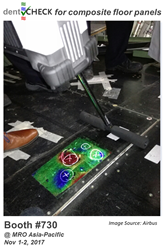 Thanks to Airbus' expanded approval, the growing list of airlines and MROs already using dentCHECK now have one more compelling use for the tool.
ENGLEWOOD, Colo. (USA) and KONSTANZ, Germany (PRWEB) October 31, 2017
Airbus has approved dentCHECK for assessing and reporting dent-size damage on composite cabin floor boards on all Airbus aircraft types. dentCHECK is the world's only handheld portable and completely wireless 3D inspection tool to be recommended by Airbus for this specific application. This recognition significantly expands the scope of Airbus' original endorsement of dentCHECK last year, which allowed for mapping of dents on metallic surfaces.
Airbus' Tool Equipment Manuals (TEM) and Tool Equipment Bulletins (TEB) are being updated to reflect this latest recognition of dentCHECK (TEB #: 300-A3327_2 / 320-A3497_2 / 340-A3505_2 / 350-A0132_1 / 380-A3351_2). Guidance to airline/MRO operators on proper use is embodied in Airbus' Structural Repair Manual (SRM) 51.11.13.
"We are glad to see Airbus' continued recognition of our dentCHECK inspection tool, and believe this expanded approval will enable operators to quickly identify and evaluate damage on cabin composite floor panels to allowable limits", said Arun Chhabra, CEO, 8tree. "This is a strong validation of 8tree's rigorous design philosophy to create a purpose-built inspection tool for aviation maintenance, that empowers all skill levels with objective, consistent and accurate 'go/no-go' answers, instantly. With the click of a single-button, we deliver definitive answers, instead of mountains of complex engineering data. As more and more of the world's airlines and MROs continue implementing dentCHECK into their operations, we believe the broadened scope of Airbus' approval will further strengthen operators' ability to efficiently and confidently maintain the structural integrity of their aircraft."
As dentCHECK adoption grows across the aviation industry, a number of operators are revealing the significant and beneficial impact of dentCHECK to their operations. Published case-studies from TAP-M&E and easyJet demonstrate as much as 90% savings in time taken to map, report and disposition dent damage.
dentCHECK empowers aircraft maintenance operations with first-of-its-kind objective and consistent dent-inspection results, and the ability to significantly expedite blend-out analysis in combination with traditionally recommended ultrasonic tools. This reduces aircraft Turn-around-Time (TaT), which in turn reduces lost revenues and improves operational efficiency for airlines. dentCHECK enhances safety through an improved understanding of airframe reliability.
For more information about dentCHECK, visit 8tree at booth 730 at MRO Asia-Pacific Nov 1-2, 2017, and always at http://www.8-tree.com
About 8tree
8tree makes 3D optical surface inspection tools that solve chronic problems for multiple industries. 8tree's products empower every operator – from mechanics on the floor, to engineers in the lab – with precision measurement, portability and performance. With its patented user-centric product design, instant 'go/no-go' answers and zero-learning curve, 8tree is committed to making precision 3D scanning more broadly accessible – technically and commercially. 8tree's dentCHECK® inspection tool is approved by Airbus, backed by Boeing and used by an increasing list of global airlines and MROs.