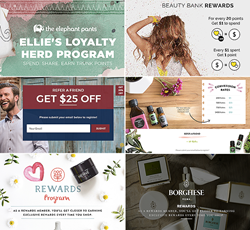 BOSTON (PRWEB) November 02, 2017
BigCommerce announced today that it has named Swell a BigCommerce Certified Technology Partner, providing more than 50,000 BigCommerce customers access to Swell's highly customizable incentive marketing platform that includes rewards, referrals, and email capture tools. BigCommerce customers can now integrate Swell's platform into their stores through the BigCommerce App Marketplace (https://www.bigcommerce.com/apps/rewards-and-referrals-by-swell/).
"We are thrilled to partner with BigCommerce and to offer our incentive marketing solutions to BigCommerce merchants," said Josh Enzer, CEO, at Swell. "We offer programs that allow for merchants of all sizes to take advantage of our highly customizable platform and drive increased revenue and customer engagement."
Swell is an incentive marketing platform that helps e-commerce businesses implement and manage high-performing loyalty, referral, and email capture programs. With an easy-to-manage interface, merchants can easily customize Swell's programs to meet their incentive marketing needs and integrate with their existing branding. On average, merchants who use Swell's platform earn $9 for every $1 invested in their program.
"Our partnership with Swell demonstrates our commitment to providing merchants the highest-caliber technologies in the industry," said Russell Klein, Senior Vice President of Corporate Development for BigCommerce. "Swell shares our desire to help merchants sell more and grow faster to maximize success, and we look forward to working together to mutually support customers."
BigCommerce Certified Technology Partners are selected for offering best-in-class
technologies, value, and superior customer service. For more information, visit: https://www.bigcommerce.com/partners/.