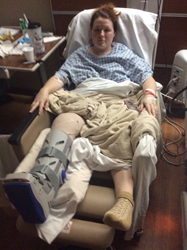 ATLANTA (PRWEB) November 01, 2017
Zagoria Law, an Atlanta-based law firm specializing in personal injury cases, today announced it has negotiated a pre-trial settlement in the case of Costello v Roto-Rooter Services Company, John Southerland and John Doe. The settlement followed the filing of State Court of Gwinnett County civil action file number 17-C-00209-1, in response to a vehicular collision in which plaintiff Lauren Costello was seriously injured.
The accident, documented by responding officers of the Gwinnett County Police Department, occurred
on Thursday, March 10, 2016, when Costello was the passenger in a 2016 Ford Titanium driven by Joshua Cribb northbound on Singleton Road in Gwinnett County. Per the accident report (#16-022302), the Ford Titanium was struck by Southerland, as he attempted a left-hand turn in front of Cribb and Costello.
According to court documents, Costello was taken by ambulance to Gwinnett Medical Center, where she was diagnosed with a broken tibia and a large cut to her thigh and knee. Medical expenses for the hospital visit, including surgery to repair the fracture and a consult with a plastic surgeon, totaled more than $58,000.
As court documents indicated, Southerland was driving a Roto-Rooter truck and trailer when the incident occurred. However, his employer, Roto-Rooter, subsequently denied the claim, stating that Southerland was on-call at the time, and therefore not in the course and scope of his employment.
Through discovery, including Southerland's own deposition, Zagoria Law factually confirmed that the defendant driver was within the course and scope of his employment and an employee of Roto-Rooter at the time of the collision. The case settled shortly thereafter.
"The U.S. Department of Labor has established strict rules regarding 'on-call' employees, and it was unambiguous that Southerland was in the course and scope of his employment at the time of the incident," said Zagoria Law Founder and Principal David Zagoria. "We were pleased to help Ms. Costello receive appropriate compensation, not only for her severe injuries, but also for her inconvenience, pain and suffering."
Follow Zagoria Law: LinkedIn
About Zagoria Law
Zagoria Law is an Atlanta-based personal injury law firm dedicated to providing unyielding representation to its clients. Founder David Zagoria has more than 20 years of experience as a prosecutor and trial attorney litigating injury cases in State and Federal Courts throughout Georgia. Honored as a Georgia Super Lawyer, the firm's focus on personal injury cases, specifically dog bites and serious injury-premises liability cases, ensures unparalleled service and dedication from the very beginning of clients' cases until the end. For more information, please visit http://www.lawzagoria.com.