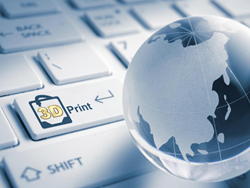 we've made it our mission to create products that allow everyone to have access to this new technology, no matter the budget or level of tech expertise...
JUPITER, Fla. (PRWEB) November 01, 2017
The award-winning series, Innovations with Ed Begley, Jr., will explore the amazing technology behind Monoprice 3D printers in an upcoming episode, which is slated to air first quarter 2018. Check your local listings for more info.
Accelerating the process from initial idea to production, 3D printing has completely revolutionized what it means to create. Ideas and designs that once only ever existed in the imagination can now be turned into real-life objects that can be touched and felt, allowing laymen to become the inventor.
"As the No. 1 3D printer brand in the world, we've made it our mission to create products that allow everyone to have access to this new technology, no matter the budget or level of tech expertise they might have," said Bernard Luthi, CEO at Monoprice. "As the 3D printing category continues to grow, our aim is to be the go-to name for affordable, intuitive, user-friendly devices that allow anyone – from beginners, to hobbyists, to pros - to bring this technology into their home or business. "
Beyond giving us more ways to create, 3D printing is also an integral part of the Science, Technology, Engineering and Math (STEM) movement, taking curiosity and creativity to new heights by allowing children to truly think outside the box.
This segment will explore the technology behind Monoprice printers, and how recent developments in 3D printing are enabling everyday people to become the creators of their own masterpiece.
"Monoprice makes 3D printing accessible to all with a low cost-of-entry for everything you need to get started including printers, filament, and more," said Stephanie Derra, producer for the Innovations series. "We can't wait to show audiences how this technology is helping turn vision into reality."
***
About Monoprice, Inc. (DBA Monoprice.com):
Located in Rancho Cucamonga, Calif., Monoprice, Inc. is an e-commerce leader specializing in providing more than 7,000 high-quality yet affordable electronics and tech products. As an industry innovator, Monoprice fills a void in the consumer technology market by delivering exceptional products that are on par with the best known national brands at prices far below the retail average with incomparable speed and service. Maintaining a business philosophy that focuses on the needs of its customers, the company strives to bring simplicity, fairness and confidence to consumers and businesses shopping for big-ticket electronics and tech accessories. For more information, visit: http://www.monoprice.com.
About Innovations and DMG Productions:
Innovations, hosted by award winning actor Ed Begley, Jr., is an information-based series geared toward educating the public on the latest breakthroughs in all areas of society. Featuring practical solutions and important issues facing consumers and professionals alike, Innovations focuses on cutting-edge advancements in everything from health and wellness to global business, renewable energy, and more.
DMG Productions (responsible for creating the Innovations show) includes personnel specialized in various fields from agriculture to medicine, independent films to regional news and more. Field producers work closely with experts in the field to develop stories. This powerful force enables DMG to consistently produce commercial-free, educational programming that both viewers and networks depend on.
For more information visit: http://www.InnovationsTelevision.com.