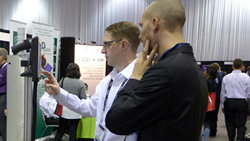 Everyone who is here is doing serious business.
BELLINGHAM, Wash. and ROCHESTER, N.Y. (PRWEB) October 31, 2017
Nearly 2,000 researchers, engineers, applications developers, equipment designers, and suppliers convened in the "cradle of optics in the U.S." — Rochester — earlier this month to see the latest in optical technologies for advanced manufacturing at SPIE Optifab.
The biennial event, sponsored by SPIE, the international society for optics and photonics, and cosponsored by APOMA, the American Precision Optics Manufacturers Association, ran 16–19 October.
A high-traffic three-day exhibition with 188 companies featured numerous demonstrations of equipment — including some very large systems — with capabilities in freeform optics, additive manufacturing, and other technologies for advanced manufacturing.
Conference and exhibition attendance numbers were up from the last event, as were registrations for the 10 courses offered.
Interest was particularly high in sessions on molded optics and controlling surface-roughness errors. Plenary talks covered freeform optics (Christian Schindler, Carl Zeiss Jena GmbH) and high-volume complex optical systems (Heinrich Grüger, Fraunhofer-Institut für Photonische Mikrosysteme).
"The vitality of the meeting reflects a strong sense of optimism right now around optical manufacturing," said SPIE CEO Eugene Arthurs. He pointed out that Rochester, a long-standing center of optics, photonics, and imaging technology development and manufacturing, has been "the cradle of optics" in the U.S.
Both first-time and returning exhibitors said they were pleased with the traffic and leads: just the "right customers" for many companies involved in optical fabrication.
"A lot of our customers are here, and we see more engineers than CEOs and CFOs," said Colleen McDermott of ComTec Solutions. "We were delighted that we had double the leads on Wednesday compared to Tuesday."
Birger Krogh, general manager of NGL Nordic A/S, commented on quality of interactions: "We have deeper technical discussions here compared to other shows."
As Robert Smythe, president of Apre Instruments, noted, "Optifab is the only exhibition in North America that brings in our exact customers. Everyone who is here is doing serious business."
Exhibitors such as John Nesbitt and Mike Hobby of RedLux took advantage of the conference-exhibition connection, making a technical presentation early in the week that helped push traffic to their booth.
Collaborative participation from academia was another positive factor for exhibitors such as Chris Malocsay, director of sales and marketing at UC Components: "I especially like that the students who come to Optifab are in the industry, training at the local schools."
Several industry-focused presentations underscored the health of the optical manufacturing industry.
Sujatha Ramanujan, managing director of high-tech accelerator Luminate, described progress toward identifying 10 teams — out of more than 100 applicants — who will each receive an initial investment of $100,000 when they begin the accelerator program in January. Following the six-month commercialization acceleration program, the 10 teams will compete for more than $2 million in follow-on funding. The field is being narrowed to 20 semi-finalists who will pitch their startups on 8 November.
Alexis Vogt, endowed chair and associate professor at Monroe Community College, gave an update on programs for training the next generation of technicians. With the optics, photonics, and imaging industry growing faster than the overall economy, and a significant percentage of current technicians approaching retirement, the need is great, she said.
Other industry presentations included a panel discussion moderated by Allen Krisiloff, executive director of the Optics and Electro-Optics Standards Council, on the impact of standards on optics science, technology, and business; and a talk by Jennifer Douris O'Bryan, SPIE government affairs director, on how U.S. regulatory changes are affecting business.
APOMA Best Student Poster Awards were awarded to:

First place, Yusuf Dogan (Texas A&M University), for "Fabrication of advanced glass light pipes for solar concentrators" (10448-93); accepted by Christi Madsen (Texas A&M University)
Runner Up, Martín Jiménez-Rodríguez (Universidad Nacional Autónoma de México), for "Design of a solar concentrator considering arbitrary surfaces" (10448-97).
SPIE Vice President Jim Oschmann (Ball Aerospace) presented the 2016 Rudolf Kingslake Medal and Prize to James Biegen and Peter de Groot (Zygo Corp.) for their paper in Optical Engineering on novel designs for interference microscopy objectives.
SPIE Optifab will return to Rochester in 2019, running 14–19 October in the Rochester Riverside Convention Center.
About SPIE
SPIE is the international society for optics and photonics, an educational not-for-profit organization founded in 1955 to advance light-based science, engineering, and technology. The Society serves nearly 264,000 constituents from approximately 166 countries, offering conferences and their published proceedings, continuing education, books, journals, and the SPIE Digital Library. In 2016, SPIE provided more than $4 million in support of education and outreach programs. http://www.spie.org