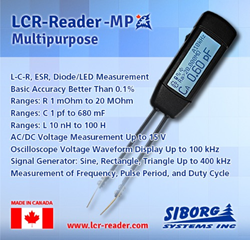 With LCR-, ESR-meter, AC/DC Voltage/Current meter, Oscilloscope and Signal Generator this device covers all needs for low frequency PCB debugging
Waterloo, Ontario (PRWEB) October 31, 2017
LCR-Reader-MP recently released by Siborg Systems Inc. which joins the LCR-Reader family of handheld LCR- and ESR-meters, offers users unprecedented functionality for testing circuits and components and a record high basic accuracy of 0.1%.
The IEEE International Electron Devices Meeting (IEDM) is an annual nano- and microelectronics conference held in December since 1955. The scope covers technological breakthroughs in the areas of semiconductor and related device technologies, manufacturing, design, modeling, physics and circuit-device interaction.
Digital Multimeter LCR-Reader-MP is a continuation of the LCR-Reader line of products and features a design of combining a lightweight multimeter, and LCD display and a set of tweezers with gold-plated probes. The device is controlled using a jog-wheel navigation similar to the one used in the original Smart Tweezers ST-1. The new device offers more measurement features than any other tweezer meter uo to date. These features include: oscilloscope mode, LED/diode measurements, AC/DC voltage measurements, continuity testing, pulse counting, signal generator, super large capacitance measurements, etc. Most importantly it offers the ability to test at 100 kHz test frequency that allows for a 0.01 pF resolution for capacitance and 1 nH resolution for inductance.
An introductory video recently added by Siborg covers the features and functions of the device. The video explains various test settings and menu entries and shows how to use some of the functions.
The oscilloscope mode allows to analyze wave-forms with frequencies up to 100 kHz on active circuit boards at various nodes of a PCBs. It should be noted that the extended voltage range switch should be properly set in the right most position to avoid the device damage due to applied voltage. The limit on the voltage measured is 15 Volts. This mode is especially helpful when using the LCR-Reader Kelvin Probe Connector. The Probe Connector turns their device into a low frequency probe station with 5 different attachments (spade connector, long and medium pin-probes, alligator clips and multimeter 4 mm plugs).
Another important feature introduced in LCR-Reader MP is the signal generator mode that allows to generate sine, meander and triangle signals with up to 100 kHz frequency and varying signal parameters.
The Large Cap mode introduced in LCR-Reader MP measures large and super capacitances up to 680 mF by offering a wider range of test frequencies ( 25, 100, 120 Hz, 1, 10, 20, 30, 40, 50, 60, 75 and 100 kHz) as well as DC measurements. For electrolytic capacitors, the device measures capacitance at 120 Hertz while ESR is measured at 100 kHz according standard electrolytic capacitor test conditions. The device will automatically reduce the test frequency to 25 Hertz when using the Large Cap mode to ensure better accuracy. For caps larger than 40 mF the measurements are made using DC.
LCR-Reader-MP has a higher signal source resistance of 1 kOhm and a maximum test signal level of 0.65 Vrms compared to that of Smart Tweezers; this signal level may lead to measured less than actual capacitance values for some ceramic capacitors that is a disadvantage.
Some of the obvious differences between the LCR-Reader-MP and LCR-Reader and Smart Tweezers devices are the device size and display. The larger back-lit LCD display used in LCR-Reader MP has larger icons and measured value symbols making it easier to read. The device is twice as heavy as LCR-Reader and weighs 2 oz. The jog-wheel navigation is used instead of a joystick control in Smart Tweezers. A rechargeable Li-Ion battery provides 8 hour continuous-use battery life, a hard-shelled carrying case and lightweight compact design make the device especially suitable for in-field tasks.
Features:

Automatic and manual LCR, ESR, LED/Diode measurements
0.1% Basic accuracy, up to 100 kHz test frequency
AC/DC voltage measurements
Diode/LED and Continuity testing
Oscilloscope Transient Voltage display up to 100 kHz
Automatic Test Signal Reduction from 0.65 to 0.1 V for in-circuit measurements
Signal Generator with Sine, Triangle and Meander pulse shapes
Frequency, Pulse Period, and Duty Cycle measurements
2 oz. weight
Active and Reactive impedance component display
Measures components to a 0201 size (about 0.3 mm)
Li-Ion battery and micro-USB charging
Siborg has created a calibration fixture for LCR-Reader MP that was recently certified by Navair Technologies, one of Canada's leading calibration houses. Now Siborg is granted the ability to accompany LCR-Reader MP with an NIST traceable calibration certificate. Siborg has also obtained FCC Certification for the LCR-Reader-MP from Electronics Test Centre at MPB Technologies Inc.
The LCR-Reader-MP is now available from the LCR-Reader Store for an introductory price of US$388.99. Siborg's Amazon channel and LCR-Reader Store also offers the LCR-Reader Kelvin Probe Connector, LED Tester, Smart Tweezers with Blue Tooth, and other devices and accessories for SMT testing and troubleshooting.