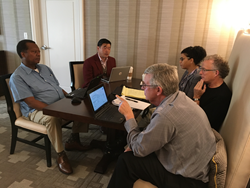 "A company that doesn't do peer review, that doesn't share that knowledge, just can't equal that fund of knowledge-base that we have at Vohra Wound Physicians." - Dr. James Kramer, M.D.
MIAMI (PRWEB) November 02, 2017
Vohra Wound Physicians is excited to build upon their position as the largest group of post-acute physicians in the Nation. While continuing to grow, the company's team of physicians recently expanded to 245 wound experts. Vohra physicians provide wound management services at more than 2,500 facilities across the United States, helping to heal well over 1,000,000 unique wounds.
Over the last 17 years, the company has built the infrastructure to support these physicians and their practices in 27 states. Part of that infrastructure includes clinical affairs oversight for their clinicians. The Vohra physicians go through peer review, chart audits and site visits regularly to ensure they stay up to date on the standard of care and any new advancements in the field. This ensures all of Vohra's patients are getting top-level care.
Recently, many of Vohra's physicians gathered at the Symposium on Advanced Wound Care in Las Vegas, Nevada. They participated in the educational sessions at the conference, also taking time to learn from the other Vohra physicians by participating in peer review.
"Vohra is a company, 245 physicians strong," says Vohra Senior Clinical Lead Dr. James Kramer, M.D. of Pennsylvania. "So, we have 245 clinical minds out there treating thousands and thousands of wounds. During the peer review process, we go over our treatments together. We can garner the opinions of multiple physicians from across the country. Whereas, if you're just one physician treating wounds on your own, it's up to you."
Vohra Clinical Lead Keith Bucklen, M.D. of North Carolina agrees, "One of the things I really appreciate about Vohra Wound Physicians is the self-monitoring. That really helps ensure the quality of the care we deliver. We look for opportunities to meet as clinicians to share ideas and best practices. We also look at one another's reporting and charting to find areas where we can help each other. I think it's extremely important. I've never actually been a part of a practice that does more self-monitoring than Vohra Wound Physicians. I think it's a great thing. We're always working toward improved quality."
Vohra often holds their peer review sessions in conjunction with large wound care conferences, such as SAWC. That allows the physicians to also spend time hearing about the latest developments in wound care research and education.
Vohra Clinical Lead Dr. Dennis Ng, M.D. of Connecticut says, "I feel that the utility of these annual national wound care conferences lies in the power of knowledge and the dissemination of the most recent research findings. At the same time, it allows physicians from different areas of the country to come together and share ideas from the field in an effort to facilitate standardization of practice. And, to ensure that we're all practicing with the current standard of care."
Kramer says it's special to be a part of such a large group of physicians working with a single mission to heal wounds. "It's not only amazing, it's powerful. We see wounds all across the country. We see wounds in different environments. We see wounds all over the spectrum of every type of nursing home in America basically. We see what works in different regions. We can share that with our other physicians. This type of learning is invaluable to our patients. A company that doesn't do peer review, that doesn't share that knowledge, just can't equal that fund of knowledge-base that we have at Vohra Wound Physicians."