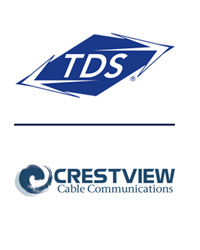 We look forward to serving our new customers today and for many years to come. We will be making significant investments to upgrade the network infrastructure to prepare these communities for long-term growth.
MADISON, Wis. (PRWEB) November 01, 2017
TDS Broadband Service LLC, a subsidiary of Telephone and Data Systems, Inc., and operated by TDS Telecom (TDS®) announces it has completed the acquisition of Crestview Cable Communications (Crestview) in central Oregon. The sale includes service areas totaling more than 21,000 homes passed in six communities.
"We look forward to serving our new customers today and for many years to come," states Jim Butman, Chief Operating Officer at TDS Telecom. "We will be making significant investments to upgrade the network infrastructure to prepare these communities for long-term growth."
TDS' infrastructure investments will help the central Oregon region continue growing as an exciting, entrepreneurial and high-quality of life destination. As previously announced, TDS plans to further expand fiber-to-the-home in the La Pine area. TDS also plans to accelerate broadband speed upgrades along with modernizing video products and services in Prineville, Madras and across the Jefferson and Crook County service areas.
"We welcome the employees from Crestview to our team. They are now part of the TDS family of companies," added Butman. "They will be working closely with their fellow employees in Bend, helping to create and implement expansion plans while continuing to serve customers as they do today."
BendBroadband, a TDS company since 2014, and Crestview have a long history of cooperating to improve communications services in central Oregon. Founded in Madras, Oregon in 1955, Crestview Cable Communications grew through acquisitions to serve Madras, Prineville, La Pine, Metolius, Crooked River Ranch, and Culver, Ore. Customers can now purchase broadband speeds up to 100 Mbps on an all-digital video network.
Pat Thompson Co. assisted Crestview Cable Communications with this transaction. Terms of the agreement were not disclosed.
TDS Broadband Service LLC, a wholly owned subsidiary of Telephone and Data Systems Inc., is a growing force in the cable industry. With more than 300,000 customer connections, TDS Broadband Service provides cable TV, broadband internet, and phone service to customers in Arizona, Colorado, Nevada, New Mexico, Utah and Texas. BendBroadband, located in central Oregon, is part of TDS Broadband Service. Visit helloTDS.com or BendBroadband.com.
TDS Telecom, headquartered in Madison, Wis., operates OneNeck IT Solutions LLC and BendBroadband, which is part of TDS Broadband Service. Combined, the company employs more than 3,300 people. Visit tdstelecom.com.
Telephone and Data Systems, Inc. [NYSE: TDS], a Fortune 1000® company, provides wireless; cable and wireline broadband, TV and voice; and hosted and managed services to approximately six million customers nationwide through its businesses U.S. Cellular, TDS Telecom, OneNeck IT Solutions, and TDS Broadband Service. Founded in 1969 and headquartered in Chicago, Telephone and Data Systems, Inc. employs more than 10,000 people. Visit tdsinc.com.
Safe Harbor Statement under the Private Securities Litigation Reform Act of 1995: All information set forth in this news release, except historical and factual information, represents forward-looking statements. This includes all statements about the company's plans, beliefs, estimates, and expectations. These statements are based on current estimates, projections, and assumptions, which involve certain risks and uncertainties that could cause actual results to differ materially from those in the forward-looking statements. Important factors that may affect these forward-looking statements include, but are not limited to: impacts of any pending acquisition and divestiture transactions, including, but not limited to, the ability to obtain regulatory approvals, successfully complete the transactions and the financial impacts of such transactions; the ability of the company to successfully manage and grow its markets; the overall economy; competition; the access to and pricing of unbundled network elements; the ability to obtain or maintain roaming arrangements with other carriers on acceptable terms; the state and federal telecommunications regulatory environment; the value of assets and investments; adverse changes in the ratings afforded TDS and U.S. Cellular debt securities by accredited ratings organizations; industry consolidation; advances in telecommunications technology; uncertainty of access to the capital markets; pending and future litigation; changes in income tax rates, laws, regulations or rulings; acquisitions/divestitures of properties and/or licenses; changes in customer growth rates, average monthly revenue per user, churn rates, roaming revenue and terms, the availability of wireless devices, or the mix of products and services offered by U.S. Cellular and TDS Telecom.