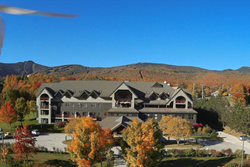 The renovations are now complete at the former Inn of Six Mountains and it has reopened as the newly re-branded Killington Mountain Lodge. We are extremely excited to offer these wonderful accommodations to our guests. It's like we are returning home after a huge renovation."
KILLINGTON, Vt. (PRWEB) November 06, 2017
Just in time for New Life Hiking Spa's 40th Anniversary, the popular hiking and weight-loss retreat is returning home to Killington Mountain, Vermont. Moving back to the property New Life spent almost a quarter of a century, the newly renovated Killington Mountain Lodge will offer spectacular lodging accommodations to accompany New Life's award-winning wellness programming.
Open each spring through fall season when hiking is at its peak in the Killington Region, New Life will run the 2018 season from May 17 though October 1. Reservations for the upcoming season can be made in January.
Founded in 1978, New Life Hiking Spa was created by Jimmy LeSage, M.S. on Stratton Mountain, Vermont and moved to the newly built Inn of the Six Mountains on Killington Mountain in 1990. For 24 years, New Life operated each spring – fall season at the Inn and experienced tremendous growth by offering affordable, authentic and all-inclusive hiking spa and wellness retreats. The Inn of the Six Mountains was sold in 2014 to Innisfree Hotels and New Life has been operating out of another hotel in the Killington vicinity for the past three years.
"The renovations are now complete at the former Inn of Six Mountains and it has reopened as the newly re-branded Killington Mountain Lodge," says Jimmy LeSage, founder and director. "We are ready to move back for our 40th Anniversary. The staff and I are extremely excited to offer these wonderful accommodations to our guests. It's like we are returning home after a huge renovation."
The New Life program accommodates up to 50 guests at a time, and each year people travel from around the world to attend 21 night extended wellness vacations, eleven-night weight loss retreats, five-to-ten night Jump Start Getaways and two-to- four night mini-wellness escapes.
All-inclusive packages include a private room with a private bath, three levels of guided hikes every day, all fitness classes and wellness programming, three freshly prepared healthy meals each day, snacks, cooking demos and nutrition lectures and one massage for each three night stay. Prices range based on length of stay from $229 – $279 per person, per night.
Located at the Appalachian Trail and Long Trail, New Life offers diverse terrains that will challenge hikers at every level. Because the number of guests is limited, each visitor is able to focus on his or her individual needs with the support of New Life's superb staff, who help guests change eating, exercising and living patterns over time. The 2018 dates will be May 17 – October 1.
ABOUT NEW LIFE HIKING SPA
New Life Hiking Spa is located in the glorious Green Mountains of Vermont. It was originally opened in 1978 by Jimmy LeSage, M.S. to offer guests the opportunity to enjoy fresh air, outdoor exercise, healthy food and relaxation in an all-inclusive, affordable active spa vacation. Four decades later, New Life Hiking Spa is one of the most accoladed destination spa and wellness retreats in the country. It was Travel + Leisure Magazine's #1 Destination Spa in the United States last year and one of USA Today's 10 Best Health & Wellness Vacations. New Life Hiking Spa is opened each spring through fall, when hiking is at its peak offering multi-level hikes along the Appalachian Trail and beautiful Vermont countryside. Known as one of the most affordable destination spas in the world, guests of New Life Hiking Spa return year after year to experience unpretentious spa and wellness vacations in Killington, Vermont.
ABOUT INNISFREE HOTELS
For more than three decades, Innisfree Hotels has expertly managed and developed dozens of hotels in partnership with many of the world's most recognized hotel brands. Today, the company owns or manages 2,935 hotel rooms, with approximately 2,000 employees. Innisfree is the largest beachfront hotel owner-operator on the Gulf Coast, with 14 Gulf front properties totaling 2,128 rooms. Innisfree is a triple bottom line company, measuring success not only in profits, but also through its impact on people and the planet. To these ends, Innisfree strives to promote a culture of responsibility and service to humanity. A value-driven corporate culture enables the company to have a deeper understanding of the needs of its guests, partners and clients, thus delivering service that is synonymous with creating fun and memorable experiences.