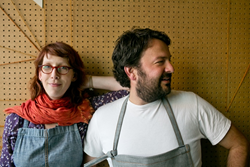 BLANDON, Pa. (PRWEB) November 01, 2017
Stuart Brioza and Nicole Krasinski, the couple behind San Francisco's acclaimed State Bird Provisions -- widely regarded as one of the most innovative restaurants in the country -- and the equally heralded The Progress, wanted their home kitchen to function like a proper working restaurant kitchen, reflective of their own personal flair.
That personal flair has garnered them national recognition for their unique dim-sum-style service and outstanding globally influenced cuisine. Bon Appetit chose State Bird as America's Best New Restaurant, Food & Wine magazine added chef Brioza to their group of Best Chef All-Stars, chef Krasinski made Tasting Table's list of Best Pastry Chefs and both were named best chefs of the Western United States by the James Beard Foundation in 2015. State Bird Provisions again received a coveted Michelin Star for 2018. Obviously these two know how to cook and assuredly know a few things about well-functioning kitchens.
At home, Nicole and Stuart wanted to bring together the same eclectic tastes and design seen in their restaurants, as well as bring in the efficiency and performance of an authentic, professional kitchen. And when they fell in love with an 1885 San Francisco classic Victorian which needed a complete overhaul, including a full kitchen renovation, the husband and wife team successfully joined forces on another new adventure.
Stuart says he could make any space work, but the thing that allows this kitchen to suit his needs is that it allows him to work efficiently. "What chefs are looking to do is to take the least amount of steps possible," he says. "Chefs are like basketball players; you never want to create extra steps. You should be able to plant one foot on the ground and pivot. This comes from years of working in a restaurant; there is something that actually makes it fun and easy."
Both chefs have an art background, a deep love for it and also a love for collaboration, which is the root of their professional success. This collaboration is reflected in their home kitchen. While their kitchen is warm and vibrant in its décor, it also is simple and hardworking. The chefs customized their kitchen with a suite of BlueStar® high performance appliances, including a 48" Platinum Range with open gas burners and a 36-inch Built-in Refrigerator, so that they could closely replicate the restaurant style cooking experience at home.
Putting Appliances on the Front Burner
Architect Kenly Lambie-Shankman of Studio Muir, told them that if they wanted to replicate the same level of performance and flexibility as in their restaurant kitchens in their home, they should look no further than BlueStar® gas ranges. "This was the first range that I cooked on that had the power of the ranges in our restaurants," says Nicole. "Being a chef is all about finesse; with this cooktop you have the flexibility of different level burners. You have impressive 25,000 BTUs, open burners that provide optimal heat distribution for even cooking and the 130° precise simmer burner. You know what kind of heat you need, and you can move around the stove." No unnecessary bells and whistles or digital controls; just a machine built for good cooking, adds Stuart.
Bigger is Better
Nicole loves the commercial-style design of the BlueStar® refrigerator with industrial grade elements like durable 304 grade stainless steel interiors. There is a dual compressor system — one for the fridge and another for the freezer — for optimum food preservation and advanced odor control. The refrigerator's fully extending bottom shelf is designed to fit a full-size commercial sheet pan — as is the freezer shelf – that way, extra-large pans prepped with pastry or hors d'oeuvres can go straight from the refrigerator or freezer into the oversized BlueStar® oven. And, its sheer capacity. It is made for easy prep and entertaining. "I can have my bread on a full size commercial sheet pan and transfer it right to the stove; no extra steps." The teal-colored BlueStar® 36-inch built-in refrigerator is a showstopper and was inspired by teal vintage appliances in the studio of lauded Seattle glass blower Dale Tihuly, the artisan behind some of the pieces in the couple's art glass collection.
The couple's singular approach to cooking, whether at home or in their restaurants, expertly blends seemingly disparate influences, flavors, and textures. Their debut cookbook, "State Bird Provisions: A Cookbook" features recipes for their most popular dishes to inspire home cooks to craft an unforgettable meal of textures, temperatures, aromas and colors that excite all of the senses.
Stuart and Nicole join an exclusive group of BlueStar® All Stars chefs, critics and interior designers – including Michael Symon, Alon Shaya, Alex Raij, Jose Garces and Mark Vetri, among others – who are passionate about achieving restaurant quality results at home. They choose to customize their home kitchens with high-performance BlueStar® appliances. Handcrafted in the U.S. since 1880, the iconic line now includes electric appliances and premium refrigeration. BlueStar® is building upon a 135 heritage of innovation by offering serious home cooks a turnkey solution for a top-performing, bespoke kitchen. For information, visit http://www.bluestarcooking.com.