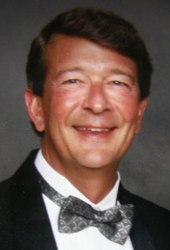 Jeff has been a dedicated and unwavering member of the Association for decades.
ELYRIA, Ohio (PRWEB) November 01, 2017
The Precision Machined Products Association (PMPA) awarded Jeffrey B. Ohlemacher, CEO of EMC Precision in Elyria, OH, its highest honor in San Francisco, CA at their annual conference & awards banquet on Sunday, October 29, 2017. He has followed in the footsteps of his father, Robert L. Ohlemacher, who received the same recognition in 1997.
As CEO of EMC Precision, Jeff is responsible for guiding the long term strategic leadership of this fourth generation, family owned precision machining company. Upon receiving a Bachelor of Science degree in Mechanical Engineering from The Ohio State University, he joined the company as Plant Manager in 1981. Jeff is credited with bringing progressive management processes to EMC that significantly improved plant effectiveness and efficiency. In 1987, Jeff was named President & CEO. Since 1981, Jeff has been a dedicated and unwavering member of the Association, participating on numerous committees (Technical Program, Quality, Statistical & Financial Resources, Finance, Executive). He currently serves on the Association's Strategic Planning Committee, and has been a member of the Management Update Committee for 15 years, serving as its Chairman in 2005. He served through the officer chairs of the Lake Erie District in the 1980's; served on the Board of Directors from 2005-2008, and was elected PMPA President in 2010. Outside of PMPA, Jeff is an active member and Past Cleveland Chapter Chairman of the Young Presidents Organization Gold and is past member of the Young Presidents Organization. He is involved in his local community as well, and has served many organizations, including the Arthritis Foundation, Elyria Civil Service Commission, Elyria City Schools Board of Education and the Elyria Rotary Club.
The Merit Award is the Association's highest award, conferred only upon recommendation of the Executive Committee. First presented in 1943, the Merit Award recognizes the recipient's contributions and continued service for the benefit of the Association and the Industry above and beyond the duties of any appointed or elected Association office. Presented only when an individual has clearly met the requirements, the award is not given every year. In recognition of Frank T. McGinnis who served the Association as its Executive Vice President from 1952 to 1992, the Executive Committee in 1993 renamed the Merit Award the Frank T. McGinnis Merit Award.
About EMC Precision – Headquartered in Elyria, OH, EMC Precision provides complex parts in low- to mid-volume quantities expertly machined since 1925. EMC provides a turn-on-a-dime response to customers urgent needs. EMC Precision's constant pursuit of excellence in precision machined parts is grounded in values of integrity, teamwork, and service to all stakeholders.
About PMPA - The Precision Machined Products Association (PMPA) is a national trade association representing over 440 member companies involved in the production of highly engineered, precision machined components used in advanced automotive, aerospace, electrical, construction, and medical technologies. PMPA's members include metal producers, machining and manufacturing companies, machine tool builders, and producers of tooling, software and accessories, and metalworking fluids.