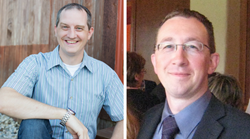 YORBA LINDA, CA (PRWEB) November 02, 2017
Automating complex workflows that require manipulating or assessing samples over days or weeks often require thinking beyond a liquid handler. The benefits of integrating additional storage devices and analyzers can occur on two broad levels.
At the sample level, the physical integration of devices with the liquid handler can remove the need to manually interact with each plate, thereby reducing the effort required for higher sample throughput while also reducing the potential for human errors. At the data level, sample processing and analyzer data can be immediately linked to ensure no errors are introduced during data deconvolution.
In addition, this data can be used to directly drive the liquid handling on an integrated system. We will describe how these benefits can apply to an integrated cell line development process that involves the plating, expansion, and screening of single cell-derived colonies to establish a protein-expression cell line.
Participants will learn how physically integrating storage and analyzer devices to a Biomek Workstation can reduce the workload and errors with higher throughput applications. They also will gain an understanding of how data-driven pipetting can automate steps, such as hit picking, without manual intervention.
The team at Beckman Coulter Life Sciences has arranged to have two speakers for this event; Dr. Russell Green, a project manager with Beckman Coulter Life Sciences and Tim Sherrill, a staff systems engineer with Beckman Coulter Life Sciences.
Green has a degree in biochemistry and molecular biology and a PhD in crystallography from the University of Leeds. A 10-year veteran of automation at Beckman Coulter, he worked in research for 2 years at the University of Leeds, then moved into a role as an automation specialist before taking on project management duties in the UK. Most recently he returned to project management by leading the developed markets team for automation.
Sherrill received his degree in computer science from Rose-Hulman Institute of Technology. He has spent his career with Beckman Coulter in the areas of software research and development, custom engineering services, field project management, and life science automation. His projects have focused in the areas of automated data processing and last year, a new version of Beckman Coulter's data management product, DART.
LabRoots will host the event November 16, 2017, beginning at noon PST. To learn more about this event and the speakers, discover the continuing education credits offered, or to register for free, click here.
About Beckman Coulter
Beckman Coulter serves customers in two segments: Diagnostics and Life Sciences. The company
develops, manufactures, and markets products that simplify, automate, and innovate complex analytical
testing. More than 275,000 Beckman Coulter systems operate in both Diagnostics and Life
Sciences laboratories on seven continents. Scientists use Beckman Coulter's Life Science research
instruments to study complex biological problems, including causes of disease and potential new therapies or drugs. Quality control specialists use Beckman Coulter's analytical instrumentation to maintain quality control in the pharmaceutical manufacturing industries.
ABOUT LABROOTS
LabRoots is the leading scientific social networking website, which provides daily scientific trending news and science-themed apparel, as well as produces educational virtual events and webinars, on the latest discoveries and advancements in science. Contributing to the advancement of science through content sharing capabilities, LabRoots is a powerful advocate in amplifying global networks and communities. Founded in 2008, LabRoots emphasizes digital innovation in scientific collaboration and learning, and is a primary source for current scientific news, webinars, virtual conferences, and more. LabRoots has grown into the world's largest series of virtual events within the Life Sciences and Clinical Diagnostics community.