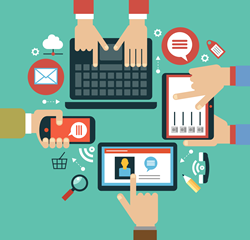 "We're excited to add even more data protection to KEMP™," said Daniel Lee, Kaonsoft Co-Founder and North America CEO. "With more companies needing to build apps in-house, MADP is quickly becoming a standard practice for large-size enterprises."
PALO ALTO, Calif. (PRWEB) November 01, 2017
Kaonsoft announced today its expanded partnership with SyncDog and integration with its Secure.Systems™ Mobile Application Workspace. This joint alliance enables organizations to fully leverage the power of enterprise mobility for a competitive advantage and optimized business processes.
The integration enhancements added by the partners allow KEMP™ to tap into the power of SyncDog's FIPS 140-2, AES 256-bit encryption for data at rest and in transit from the SyncDog workspace which now includes Kaonsoft's Mobile App Development Platform (MADP).
"This enhanced integration to the Kaonsoft/SyncDog product lines positions us well for future growth," said Jonas Gyllensvaan, CEO and founder of SyncDog. "The partnership helps validate the market's need for a secure and highly-functional mobile app container that is NIST certified. We are working on similar integration enhancements with Microsoft and its Office 365 product line, as well as other enterprise-sized software vendors."
Mobile technology is driving digital transformation and shifting the business model, creating new sources of value for organizations. In today's digital ecosystem, business apps must be secure, scalable, sustainable, and include highly targeted functionalities. The Kaonsoft Enterprise Mobility Platform (KEMP™) is an award-winning, holistic development architecture that is built from the ground up as an agile and robust engine to facilitate the creation of mobile apps that meet burgeoning business demands. Together with the fortification of SyncDog Secure.Systems™ containerized workspace at the device level, KEMP™ will equip developers with all the essential tools and services needed to build, deploy and manage mobile solutions in a user-centric, fully integrated framework.
A recent study by Gartner showed that in 2015, about 60% of organizations were engaged in mobile app development and by 2016, that number had jumped to 73%. Gartner further predicts that by 2022, 70% of software interactions in enterprises will occur on mobile devices. With mobility demands growing and organizations recognizing that "going mobile" is no longer a trend but a necessity, a mobile application development platform (MADP) must serve as a solid foundation upon which apps are created and consumed. By strategically aligning with SyncDog, Kaonsoft is able to provide the following critical elements of a robust MADP to drive mobile productivity and stimulate enterprise growth:
Development flexibility: open-standard technology with virtually no vendor lock ensures that continuous improvements are implemented without any proprietary constraints or artificial barriers to deliver sustainable and configurable mobile solutions.
Security infrastructure for data protection: Secure. Systems™ containers provide FIPS 140-2 compliant and AES 256-bit encrypted mobile application security to safeguard sensitive, mission critical data both at rest on the device and in transit from device to datacenter.
Cross-device compatibility for multiple operating systems: cross-platform development tools ensure that data from back end systems and legacy applications are rapidly delivered to any mobile device to support CYOD and BYOD policies and can easily scale for growing needs.
Pre-built components for easy integration with backend systems: modular architecture of KEMP™ combined with a myriad of engines on the server side promote seamlessly integration with existing network systems and services to preserve and leverage existing enterprise assets.
Dashboard for actionable business insights: modern portal of KEMP™ provides contextual data and statistics on app usage to ascertain operational effectiveness and efficiencies.
"KEMP™ is an enabling technology with the potential to modernize workplaces across industries. With 100+ individual UI templates, 70+ scenario-based templates and 30+ standalone application templates allowing for easy customization, KEMP™ has the potential to significantly improve many business practices," said Daniel J. Lee, Co-founder/CEO of Kaonsoft. "Organizations utilizing Kaonsoft and SyncDog powered mobile solutions can expect to see enhanced workflow with greater efficiency."
About Kaonsoft, Inc.
Established in 2011, Kaonsoft is a software company that delivers secure mobile strategies to organizations across industries for complete digital transformation. Backed by decades of digital expertise, Kaonsoft provides end-to-end mobility solutions that include an award-winning app development platform, a line of business-specific mobile applications as well as app delivery services. Kaonsoft aims to help clients improve customer experience, increase operational efficiency and optimize top line growth through a successful realization of enterprise mobility.
For more information, visit http://www.kaonsoft.com, or connect with Kaonsoft on Facebook, LinkedIn, Twitter, and YouTube.
Media Contact
Sharlene Joo
Kaonsoft, Inc.
sharlene.joo(at)kaonsoft(dot)com
877.565.6668
About SyncDog
SyncDog is the leading ISV for building mobile IT frameworks that extend enterprise app functionality to mobile devices while securing networks from mobile-endpoint threat. SyncDog Secure.Systems™ delivers an unimpeded, fully-functional mobile app experience that supports Microsoft OneDrive, Office 365, Skype for Business, and other Microsoft productivity apps within a NIST-certified, FIPS 140-2 workspace. The Secure.Systems™ mobile-app mobilworkspace is ideal for organizations that want to deliver a rich mobile app experience across BYOD, CYOD, or other device policy. Secure.Systems™ can be deployed as managed service from https://secure.systems or as on-premise solution. Secure.Systems™ can be found on both the Microsoft Azure and MobileIron marketplace exchanges. For more information about SyncDog, please visit https://syncdog.com.
SyncDog Media Contact:
Tony Perri
Perri Marketing, Inc.
Chattanooga, TN USA
http://www.perrimarketing.com
tony(at)perrimarketing(dot)com
+1-423-987-4925