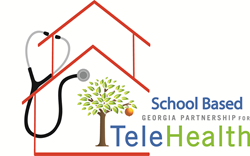 It should never be the intention of school-based telehealth centers to erode the local medical community.
(PRWEB) November 03, 2017
Global/Georgia Partnership for Telehealth (GPT) is excited to announce that it now serves more than one hundred schools throughout the state of Georgia, a major milestone for the telehealth networking agency. GPT has been very passionate about this market segment for many years, and employees are grateful that their passion has yielded such results. According to Loren Nix, Director of School-Based Telehealth at GPT, the key to the company's success in school-based telehealth lies in its unique approach to planning school-based programs. From the beginning phases, GPT seeks to develop telehealth programs around each school system's needs that capitalize on an already-existing medical community. "As we begin initial planning with schools interested in implementing telehealth, we strongly encourage them to conduct a local scavenger hunt to assess and tap into existing healthcare providers in their area," Nix explains. "It should never be the intention of school-based telehealth centers to erode the local medical community." GPT believes school-based telehealth should work to enhance existing medical services and to provide better access to care. GPT's robust network of providers can then step in to support healthcare needs that are not met locally.
Global Partnership for Telehealth (GPT)—a not-for-profit, statewide telehealth network based in Waycross, Georgia—is changing the face of school-based healthcare by partnering with more than 25 Georgia school systems to provide telehealth services to both students and staff. GPT's school-based telehealth program began as a pilot project in Berrien Elementary School in 2009; it has since expanded to include more than one hundred schools across the state of Georgia. GPT's model provides the telehealth equipment and infrastructure needed for school nurses, counselors, and other staff to connect patients with healthcare providers for acute care, specialty care, and behavioral health needs. GPT, however, is more than just an equipment vendor. The agency also provides programmatic support, training, end-user IT support, scheduling assistance, and a dedicated regional account manager who will assist with telehealth needs and program success.
To learn more about GPT and its school-based telehealth program, contact Loren Nix at loren.nix(at)gpth(dot)org.
About Global/Georgia Partnership for TeleHealth
Global Partnership for TeleHealth is a non-profit agency based on experience and knowledge gained from years of creating and maintaining telemedicine programs, and made possible by advanced telecommunications, software and equipment. The hallmark of the Global Partnership for TeleHealth is the Open Access Network, a web of national and international strategic partnership clinical access points with successful existing telemedicine programs. This comprehensive network also supports the creation of new telemedicine locations to maximize opportunities for timely specialty services across the globe.
Global Partnership for TeleHealth's Expansion
Global Partnership for TeleHealth is a worldwide extension of the work of Georgia Partnership for TeleHealth that was established in 2006 in Waycross, Georgia. The original Georgia-based program quickly grew to include state-of-the-art telehealth solutions for individuals living in underserved communities within neighboring states then expanded into 11 states and 4 countries.
This expansion resulted in the development of the Global Partnership for TeleHealth's centralized scheduling portal to connect patients with specialist consultations via the Open Access Network in a matter of days or even hours versus the weeks or months that it may have taken before.
GPT Mission
Leveraging telehealth technologies for the benefit of all.
GPT Vision
Healthcare everywhere.
GPT Values
Integrity – Expertise – Passion – Innovation