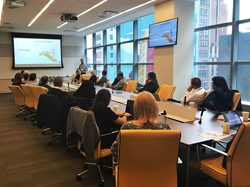 "I found the sessions educational, informative and very well presented." -Manager of IT Training, NY NY Am Law 100 Firm
NEW YORK (PRWEB) November 01, 2017
On October 26, a group of IT and law firm leaders were granted unprecedented entry to Kraft Kennedy's annual educational summit in New York.
Kraft Kennedy University, or KKU, is a daylong event that took place at the Microsoft Technology Center in Times Square. The long-running conference has, until this year, been limited to company employees. For over twenty years, the IT vanguard—leaders in fields like virtualization, communications, productivity, and strategy—has been gathering for these elite training sessions at Kraft Kennedy's headquarters. This year, Kraft Kennedy expanded the event beyond the company for the first time in a day dedicated to the issues facing the legal industry.
The exponential pace of technological change in the last decade, combined with new economic pressures and cybersecurity threats, has created a tangle of complications for a profession that deals with high-pressure matters, sensitive data, and exacting clients. KKU students gained an understanding of how to respond to these issues to keep their firms safe and successful. This year's conference had a special focus on security, including the latest findings and recommendations in cybersecurity, advice for patching in light of Microsoft's unprecedented new update model for Windows 10, and more.
KKU's schedule of seminars and networking breaks was designed to offer attendees the chance to learn from technology experts as well as from fellow C-level leaders and managing partners. Guests left with invaluable insights for the year ahead.
KKU instructors brought a unique trove of knowledge to their courses. Speakers like Joe Hoegler, a world-leading expert in Microsoft Exchange, shared successful strategies gleaned through both wide-ranging experience and analysis. Theory and practice converge at Kraft Kennedy, a tech think tank known for leading the industry conversation with high-quality educational and networking events, webinars, and white papers. Thriving law firms, nonprofits, and financial organizations have long looked to Kraft Kennedy for guidance, not only on implementation but also on long-term strategy.
This year's conference offered three tracks for knowledge-seekers: infrastructure, front-end technology, and security.
Kraft Kennedy hosts a variety of exclusive roundtables and conferences nationwide. Email hello(at)kraftkennedy(dot)com if you would like to attend one in your city.