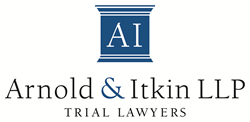 HOUSTON (PRWEB) November 01, 2017
Arnold & Itkin LLP, a Houston-based law firm, has been recognized by the "Best Law Firms" list published by U.S. News and Best Lawyers®. The firm has been ranked among the top-performing law firms both in Houston and nationwide for their work in Admiralty & Maritime Law. Maritime law, an area of law that predates the Constitution, governs the rights of oil rig workers and vessel crews following an injury, among other things.
The "Best Law Firms" list is an annual publication created from the data used for the Best Lawyers in America© list. The list looks at a firm's ethics, integrity, trial record, and cost-effectiveness in order to create a list of the leading law firms in 70+ practice areas. The results are organized into 3 tiers, with highest-rated firms in Tier 1, Tier 2, and Tier 3.
The list is also organized by city or metropolitan region, allowing some firms to have both a local ranking and a national ranking. Among Houston law firms, Arnold & Itkin was ranked in Tier 1. The firm's performance earned them a Tier 2 ranking among all maritime law firms in the United States.
###
Arnold & Itkin has represented injured crew members, rig workers, and grieving family members in high-profile offshore injury cases nationwide. They represented over one-third of the workers injured in the Deepwater Horizon disaster and represented the widows and families of crew members lost at sea when the El Faro sank in October 2015. Altogether, Arnold & Itkin have won cases for thousands of injured seamen and rig workers. For more information about their work in Admiralty & Maritime Law, visit http://www.offshoreinjuryfirm.com.