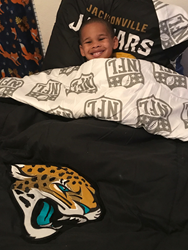 As long as there are children in need of a place to sleep and to dream, Ashley HomeStore will be there.
JACKSONVILLE, Fla. (PRWEB) November 03, 2017
The long-standing charitable partnership between the Jacksonville Jaguars and Ashley HomeStore has resulted in more than 1,000 First Coast children receiving beds from Ashley HomeStore. With the 2017 Jacksonville Jaguars defense leading the NFL in sacks, Ashley HomeStore–Jacksonville confirmed there is no cap to the number of beds it will donate to children this season.
"That's because absolutely every single sack equals a free bed set for a First Coast child in need," says Ashley HomeStore–Jacksonville CEO, Howard Fineman. "Originating from our charitable partnership with the Jaguars and Ashley HomeStore's Hope to Dream program, Hit the Sack was quite simply a way to donate more beds to First Coast Kids and involve Jaguars players in giving back. Every sack provides a child with their own bed – oftentimes, it's the first mattress set and bed that they've ever had."
Over the years, Hit the Sack has grown into a source of inspiration for the Jacksonville Jaguars and a community of recipients. Along with Ashley HomeStore's 200-bed giveaway on Hope to Dream day earlier this year, the Jaguars 33 regular season sacks bring the total number of donated beds to 233 this season, with nine games to go.
"We're all excited that we can help out the local Jacksonville community with the Hit the Sack promotion," said Jaguars DL Calais Campbell. "I'm looking forward to returning to the field this weekend to rack up even more sacks so we can continue to make kids' dreams come true."
The bed recipients are all eligible for Ashley HomeStore's Hope to Dream program, which funds the free beds directly from proceeds of mattress sales in its local showrooms. Many of the recipients on the First Coast are recommended from local, child-serving organizations, including Tom Coughlin's Jay Fund, Children's Home Society, Hubbard House, the Salvation Army and Safe Harbor in Brunswick, GA, among others. Since the program's beginning in Jacksonville almost seven years ago, Ashley HomeStore has given away nearly 50,000 beds to underserved children across the nation.
"As long as there are children in need of a place to sleep and to dream, Ashley HomeStore will be there," says Fineman. "We always want more sacks because that means the Jaguars are winning and so are children on the First Coast. It's a very powerful moment to tell a child that they have a bed of their own and will never sleep on the floor or a cot or sofa again. It's our hope that these bed donations will continue to fuel the Jaguars defense throughout the entire season!"
Ashley HomeStore-Jacksonville has been a leader in the community for over 10 years. Most recently voted again the #1 furniture store, and #1 mattress store, in Jacksonville by the Times-Union Bold City Best Poll, they are also the #1 Tempur-Pedic® retailer and the #1 furniture brand in the world. Fineman credits much of Ashley HomeStore-Jacksonville's success to building an organization and team both around giving back to the community, and servant leadership.
Hope to Dream is just one of the pillars of Ashley HomeStore's community support. Recently Ashley HomeStore partnered with Tempur-Pedic® to form Operation Shut-Eye, giving active duty and retired U.S. Special Operations forces the gift of elite sleep. Locally, Ashley-HomeStore is the largest facilitator of Angel Tree gifts through the Salvation Army Angel Tree program annually and has supported the Donna Foundation / 26.2 with Donna Breast Cancer Marathon since its inception over 10 years ago.
Families in need of beds for children ages 3-16 should complete nomination forms in any local Ashley HomeStore showroom or online at http://www.ahopetodream.com.
###
Ashley HomeStore has four locations in the Jacksonville, Florida area (St. Johns Town Center, River City Marketplace, Orange Park @ I-295, and at Glynn Isles Market (Brunswick GA)). The retailer is an exclusive provider of furniture from Ashley Furniture Industries, Inc., the largest furniture manufacturer in North America. For more information on Ashley HomeStore and our products, visit our website at http://www.AshleyHomeStore.com.
If you would like further information, photography/video, or to set up on or off-camera interviews please contact Tori Fusinaz at tfusinaz(at)ashleyjax(dot)com or at 904-217-7367.