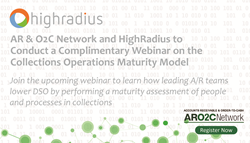 Houston, TX (PRWEB) November 01, 2017
AR & O2C Network and Highradius Corporation will be hosting a complimentary webinar on "The Collections Operations Maturity Model: How Leading A/R Teams Lower DSO by Enabling People, Process, Data, Collaboration and Technology," Thursday, November 2, 2017 2 PM ET. Attendees of the session will learn how to assess people, process and technology that drive collections operations in their organizations to reduce DSO and past-due A/R.
While credit and accounts receivable departments aim for 90%+ current receivables current i.e., within payment terms, the reality is that more than 38% of invoices are not paid on time. Most A/R teams mitigate the impact of receivables to control past-due A/R by attempting to change payment terms, through Six-Sigma process design and technology adoption, however, the success stories are few and far between.
The webinar presenters will share how research on more than 500 receivables projects has demonstrated that credit and A/R leaders are more likely to positively impact A/R KPIs if they start with an assessment of their collections operation maturity. Assessment parameters on such initiatives should include people, processes, data, collaboration and technology. The Collections Operations Maturity Model has been devised to help finance decision makers perform an in-depth evaluation of their current operations and identify clear next steps to advance up the maturity pyramid.
In the upcoming webinar, Judy Bicking, Senior Trainer, IOFM, Bob Diana, Regional Vice President, HighRadius and CM Nayak, Manager - Solutions Engineering, HighRadius will discuss The Collections Operations Maturity Model and the best practices to manage and measure collections and fundamentally transform it from a reactive process to a proactive one.
Judy, a 27-year Johnson & Johnson Global Business Services veteran, was first recognized as a leader in credit management and then as a pioneer and leader in procure-to-pay. Bob has more than fifteen years of experience in workflow automation for the credit to cash space and is currently managing a HighRadius team covering the east coast while also developing partner relationships. CM has half a decade experience in consulting with companies including Nike, Mars and Commercial Metals customers on large receivables transformation projects.
For more information or to register for the live event click here.
About HighRadius
HighRadius is a Fintech enterprise Software-as-a-Service (SaaS) company. The HighRadius™ Integrated Receivables platform optimizes cash flow through automation of receivables and payments processes across credit, collections, cash application, deductions, electronic billing and payment processing. Powered by the Rivana™ Artificial Intelligence Engine, HighRadius™ Integrated Receivables enables teams to leverage machine learning for accurate decision making and future outcomes. The radiusOne™ B2B payment network allows suppliers to digitally connect with buyers, closing the loop from supplier receivable processes to buyer payable processes. HighRadius solutions have a proven track record of optimizing cash flow, reducing days sales outstanding (DSO) and bad debt, and increasing operational efficiency so that companies may achieve strong ROI in just a few months.
About AR & O2C Network
AR & O2C Network is part of the Institute of Finance and Management. The AR & O2C Network is the leading provider of training, education and certification programs specifically for Accounts Receivable, Order-to-Cash, Global and Shared Services professionals.
About IOFM
The Institute of Finance and Management (IOFM) is the leading organization providing training, education and certification programs specifically for professionals in Accounts Payable, Procure-to-Pay, Accounts Receivable and Order-to-Cash, as well as key tax and compliance resources for Global and Shared Services professionals, Controllers and their F&A teams.
# # #
For More Information Contact:
Taylor Bartlett
Marketing Coordinator
taylor.bartlett(at)highradius(dot)com
281.972.2101