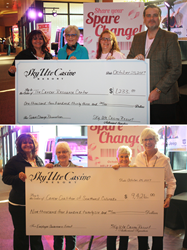 We are so grateful for our generous guests and team members for their support - Krista Red-Garcia
IGNACIO, Colo. (PRWEB) November 02, 2017
Thanks to the generosity of Sky Ute Casino Resort guests and Team Members, the Sky Ute "Share Your Spare Change" campaign raised an astounding $11,892.40, to help fight cancer and help those families in need in the region. These funds were raised from October 1- 25th, for the benefit of two local charities. Representatives from the local Cancer Coalition of South West Colorado, and the Cancer Resource Center were on hand to receive the donation.
The Casino floor was awash in pink, complete with pink lighting and décor, during the October "Share your Spare Change" and "Fight 4 a Cure" campaign. Team members added to the lively Pink atmosphere by wearing their Sky Ute Casino, "Think Pink" t- shirts; generating even more excitement and enthusiasm for the cause. For this campaign, unredeemed or donated slot tickets and cash were deposited in specially marked collections bins throughout the property. Those tickets and dollars, combined with the coins that had been tossed into the Casino's fountain and donations from Team Members added up to the over-the-the top total!
Casino General Manager Krista Red-Garcia, was so pleased to announce the final donation amount of $11,892.40. She said, "We are so grateful for our generous guests and team members for their support, donations and encouragement in this campaign to fight cancer, to help those most afflicted and who are in need. Cancer has touched so many lives, whether in our own families or with our friends. It is so gratifying to see first-hand the commitment of our Sky Ute guests and Team Members to take our Think Pink campaign as high as it did. Now we really have set the bar high for next year!"
The, "Share Your Spare Change" campaign is part of a greater community effort by Sky Ute to contribute to those in need. Just last month, Sky Ute team members rallied together during Labor Day Weekend to send truckloads of donations to Texas in order to aid those affected by Hurricane Harvey.
About Sky Ute Casino Resort
Sky Ute Casino Resort is proudly owned and managed by the Southern Ute Indian Tribe. Sky Ute Casino Resort offers approximately 700 slot machines, five blackjack tables, one three-card poker table, a four-table exclusive non-smoking poker room, craps, roulette and a 200-seat bingo hall. The casino also now offers high-stakes gaming on all table games and select slot machines as well as a dedicated non-smoking slot area.
With 140 luxury resort rooms, including eight culturally themed suites, the hotel at Sky Ute Casino Resort provides a respite from the daily hustle and bustle. Resort rooms and suites are finely appointed with the highest quality furnishings, linens, and more. Guests are provided access to Las Vegas-style gaming, four unique and creative dining options, a luxury day spa and salon, fabulous swimming pool and sun deck, a state-of-the-art bowling center, a 1,400 seat multi-purpose events and show center, miniature golf course, fitness center, laundry facility and many other amenities. To learn more about Sky Ute Casino Resort, please visit http://www.skyutecasino.com.