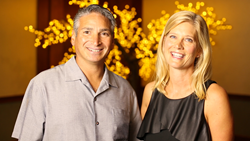 VIRGINIA BEACH, Va. (PRWEB) November 13, 2017
Party with a Purpose just wrapped up its seventh annual event on Friday, October 13th, at The Meadows Club in Rolling Meadows, IL. A record breaking crowd of 350 guests joined together to raise nearly $200,000 to support nutrition, health, educational and vocational job skills training for a community of 1,200 vulnerable children in Nicaragua.
Many guests commented this was the "best party yet" and true to Party with a Purpose tradition, the event offered something for everyone. Some guests danced the night away to their favorite tunes played by local Chicago band, 7th Heaven, while others relived their youth by playing classic arcade games, air hockey and foosball. A mechanical bull was ready to rumble for those brave enough to channel their inner cowboy or cowgirl and Moretti's Ristorante & Pizzeria kept the partygoers well fed with their infamous Italian fare.
A custom Jeep Wrangler donated by Sherman Dodge, Chrysler and Jeep kicked off raffle ticket sales two weeks in advance of the annual party and a Cub's 2016 World Series jersey was the first item up for bid in the action packed live auction event. Throughout the night, guests also competed bid by bid to take home the legendary silent auction packages that have come to be a phenomenal staple of Party with a Purpose. Each year, one hundred percent of the proceeds from the party and the auctions support ORPHANetwork, a non-profit organization whose focus is to break cycles of poverty through the local Nicaraguan church.
Over the course of seven years, the Chicago area party has raised nearly $1.2 million to provide approximately 2.3 million meals, medical and dental care, deworming treatments, hygiene training and support for new moms that have collectively reduced malnourishment rates by 50% in the former refugee community of Nueva Vida. A video of a Nicaraguan family who has been directly impacted by the parties captivated this year's crowd as the mother explained how her son is now working and breaking the cycle of poverty thanks to the help of the holistic care provided in the community.
Party with a Purpose was started in 2011 by John Pitzaferro, CEO and Founder of TransNational Payments, after he traveled on an ORPHANetwork vision trip to Nicaragua. Seeing the tangible impact their donations are making in the lives of the children and families in Nicaragua, John, his wife Stacey, the staff at TransNational and countless volunteers continue give their time, talent and energy to make each annual party better than the last.
ORPHANetwork currently partners with more than 200 Local Church Initiatives in Nicaragua to break cycles of poverty through holistic care focused on health, education and job skills training for nearly 20,000 vulnerable children. Additionally, ORPHANetwork cares for 370 orphaned and abandoned children through partnerships with six child protection centers (orphanage homes) across Nicaragua.
Visit these websites to learn more about:
Party with a Purpose : https://partywithapurposechicago.com/
TransNational Payments : https://gotnpayments.com/
ORPHANetwork : https://orphanetwork.org/