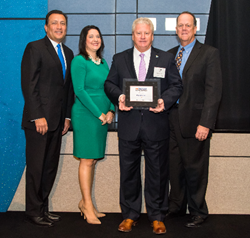 We salute our diverse and talented teams for their contributions to Populytics' growth and the ability to positively impact health care for all."
ALLENTOWN, Pa. (PRWEB) November 03, 2017
Populytics, Inc., a population health management and analytics firm, and wholly owned subsidiary of Lehigh Valley Health Network (LVHN), has been ranked number 16 among the Greater Lehigh Valley's 2017 Fastest Growing Companies. The announcement was made by Lehigh Valley Business and its event sponsors, including Baker Tilly and the Lehigh Valley Economic Development Corporation, at an awards celebration at DeSales University, Center Valley, Pa. on October 25.
The Fastest Growing Companies awards program honors the Greater Lehigh Valley's most dynamic businesses that progressively contribute to the success of the region's economic growth and stability. Forty-five winning firms were chosen based on the last three years of performance as evidenced though financial information and tax returns. Populytics was proud to make the top 20.
"Since our inception, we have been utilizing data to identify actionable insights for partners such as LVHN, payers, providers, and patients, toward the goal of higher quality health care and better value in our community and beyond," says Gregory G. Kile, President and CEO. Although Populytics started in 2013, its roots go much deeper. The company emerged from Spectrum Administrators, founded in 1988 to manage LVHN's employee health and dental plans. It grew into a full-service, third-party administrator, servicing employers across the region.
"Over the last four years, we have made significant investments in building a proprietary population health management analytics technology platform, and growing our staff, which has more than doubled in four years," says Kile. "The company has been rebranded to reflect our approach to population health management through applied analytics and informatics. We salute our diverse and talented teams for their contributions to Populytics' growth and the ability to positively impact health care for all."
A special Lehigh Valley Business newspaper supplement highlighting each honoree in order of their placement was also distributed at the awards ceremony.
For more information on Populytics, visit http://www.populytics.com.
ABOUT POPULYTICS
Regional businesses can fully leverage the power of Lehigh Valley Health Network's (LVHN) employer health care resources by accessing them through one convenient source, Populytics, Inc., a wholly owned subsidiary of Lehigh Valley Health Network. Populytics is a technology company that supports population health by serving as the data engine that drives health care. We provide employers with insights, transparency, and pathways to improve employee health. Additional services include corporate wellness programs, emotional wellness resources, occupational health services, and fitness centers.