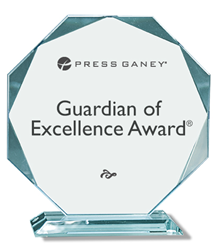 This recognition is thanks to our outstanding staff, who practice patient-centered care and who have a solid commitment to patients having a top-notch healthcare experience each and every day. -- Reginald Blaber, MD, MBA, FACC, President, Lourdes Health System and Executive Director, Lourdes Cardiov
CAMDEN, N.J. (PRWEB) November 02, 2017
Lourdes Cardiology has been named a 2017 Guardian of Excellence Award® winner by Press Ganey, a leader in patient experience measurement and performance improvement solutions. The Guardian of Excellence Award recognizes top-performing health care organizations that have consistently achieved the 95th percentile or above of performance in Patient Experience.
"Lourdes Cardiology is honored to receive the Guardian of Excellence Award," said Reginald Blaber, MD, MBA, FACC, President, Lourdes Health System and Executive Director, Lourdes Cardiovascular Institute. "This recognition is thanks to our outstanding staff, who practice patient-centered care and who have a solid commitment to patients having a top-notch healthcare experience each and every day. We are incredibly proud of this award and salute our team for their hard work."
According to Dr. Blaber, the award represents an important recognition from the industry's leader in measuring, understanding and improving the patient experience.
"We are proud to partner with Lourdes Cardiology," said Patrick T. Ryan, CEO of Press Ganey. "This award is a testament to the organization's leadership in delivering patient-centered care. By achieving and sustaining this level of excellence, Lourdes Cardiology continues to demonstrate their commitment to reducing patient suffering and advancing the overall quality of health care."
The Press Ganey Guardian of Excellence Award is a nationally-recognized symbol of achievement in health care. Presented annually, the award honors clients who consistently sustained performance in the top 5% of all Press Ganey clients for each reporting period during the course of one year.
"Lourdes Cardiology physicians and staff strongly believe in giving patients the opportunity to be active participants in their healthcare," said Joseph R. Laudisio, Executive Director for Lourdes Cardiology. "We strive to exceed the expectations of our patients and their families by making sure patients have a voice in their care, and by building on the high-quality service Lourdes is known for."
About Lourdes Cardiology
Lourdes is one of the largest providers of cardiac services in the Delaware Valley. Known for its innovation in heart care, the New York Times featured Lourdes as a national model in the effective and swift treatment of heart attacks (https://www.nytimes.com/2015/06/21/health/saving-heart-attack-victims-stat.html?_r=0). Lourdes has received multiple national recognitions for its cardiovascular care, including the Healthgrades 2017 Cardiac Surgery Excellence Award, Truven Health Analytics' 50 Top Cardiovascular Hospitals (2015). It achieved 5 Stars from Healthgrades in 2017 for Valve Surgery as well as Defibrillator Procedures. Lourdes' cardiac program has also garnered national recognition from Becker's Hospital Review in their 2015 list of 100 Hospitals with Great Heart Programs.
About Press Ganey
Press Ganey is a leading provider of patient experience measurement, performance analytics and strategic advisory solutions for health care organizations across the continuum of care. With more than 30 years of experience, Press Ganey is recognized as a pioneer and thought leader in patient experience measurement and performance improvement solutions. Our mission is to help health care organizations reduce patient and caregiver suffering while improving the safety, quality and experience of care. For more information, visit http://www.pressganey.com.