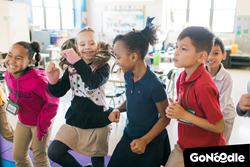 NASHVILLE, Tenn. (PRWEB) November 02, 2017
Nashville,TN, Austin, TX, and Louisville, KY, rank top among large U.S. cities for kids physical activity, and Tennessee, North Dakota, and Arkansas are leading states in minutes of movement for kids according to the new 'Kids Movement Index' released today by GoNoodle. The second annual Kids Movement Index ranks top U.S. cities and states where elementary-school-aged children engaged in the most physical activity during the 2016-17 school year through GoNoodle.
Tennessee's 89% growth in minutes physical activity among kids made it the number one state in terms of minutes of movement per child, moving up 2 spots from last year's ranking. Kids in Nashville, TN had a 71% increase in physical activity, moving up 2 spots to become the number one large city in the U.S. for movement at school.
The Kids Movement Index includes rankings of all 50 states and the top 10 metropolitan areas in three size categories (large, mid-size and small markets). Fayetteville, AR, Knoxville, TN and Charleston, SC rank top in mid-size size cities, and Clarksville, TN, Kalamazoo, MI, and Lincoln, Ne rank top in small markets.
"This year's Kids Movement Index includes 5 billion minutes of physical activity — an increase of 60% over last year's ranking — and shows that teachers are finding creative ways to get kids moving more at school across the country," says Scott McQuigg, CEO and Cofounder of GoNoodle, publishers of the Kids Movement Index. "The growth in minutes of movement in Tennessee is amazing, and can be attributed to a unique public-private partnership between leaders in education, health, government, and private enterprise to get kids active at school, where we know movement fuels better academic performance."
The Kids Movement Index is based upon on the physical activity over 12 million children earned on GoNoodle between August 1, 2016 through June 30, 2017. GoNoodle's 5 billion minutes of movement are broken down by state and city (CBSAs) with the latter, segmented according to their respective sizes of their elementary student population: large (more than 100,000), mid-size (between 50,000 - 100,000) and small (between 25,000 - 50,000). The total minutes of kids movement is calculated as the amount of time GoNoodle is played in the classroom or at home.
The Kids Movement Index can be found by visiting http://about.gonoodle.com/2017kmi/.
The CDC recommends that children get 60 minutes of physical activity a day, yet most children typically get less than 20 minutes. Due to a variety of circumstances , children today are leading increasingly sedentary lifestyles, and research proves movement is essential for healthy development.
About GoNoodle
GoNoodle (launched in 2013), gets kids moving to be their smartest, strongest, bravest, silliest, bestest selves. GoNoodle is among the fastest adopted online resources used by elementary teachers, connecting movement, mindfulness and learning for their students. Delivering measurable gains in academics and health, GoNoodle's 100's of short interactive videos and games get kids moving throughout the school day, keeping them energized and focused, while introducing curricular topics, practicing mindfulness or just getting the wiggles out. GoNoodle supports teachers in optimizing learning opportunities while creating a joyful classroom. Currently, more than 14 million kids and over 650,000 teachers use GoNoodle each month. GoNoodle is used in 80% of U.S. public elementary schools in all 50 states and worldwide in 185 countries. Over 2 million families use GoNoodle at home, turning screen time into active time, either through gonoodle.com, apps for the iPhone and Apple TV and through the GoNoodle YouTube channel. Learn more at http://www.gonoodle.com.