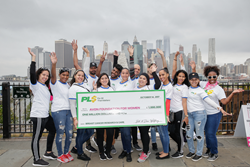 "PLS is honored to support ongoing breast cancer research and care through our relationship with AVON 39," stated Dan Wolfberg, co-president, PLS Financial Services. "We believe that it is important to build lasting partnerships with organizations that support issues that have impacted our customers
CHICAGO (PRWEB) November 02, 2017
"PLS is honored to support ongoing breast cancer research and care through our relationship with AVON 39," stated Dan Wolfberg, co-president, PLS Financial Services. "We believe that it is important to build lasting partnerships with organizations that support issues that have impacted our customers, employees and their families."
Over the last five years, PLS has supported walkers in Houston, Chicago, Boston, Santa Barbara, and New York by hosting cheering stations along the 39.3 mile-long route in these cities. Additionally, this year walkers were invited to take a mini-break at the official PLS Rest Stop, strategically located along the 39.3 mile-long route in Houston. For the first time, walkers were able to take a short break, grab refreshments and recharge before they continued on the route. Additionally at the PLS Rest Stop, they had access to a first aid station and portable restrooms.
Community involvement and engagement has become a pillar of PLS's ongoing business strategy. PLS is committed to being a good community partner, by partnering with a number of non-profit organizations as part of the national #GivingTuesday initiative. PLS has been a part of this global day of giving for the past two years. To date, PLS associates have volunteered over 5,000 hours of service to non-profit and community based organizations across the United States.
"We understand how important it is to be a part of an important global initiative," stated Bob Wolfberg, co-president, PLS Financial Services. "#GivingTuesday is a day where our entire system rallies together to support our customers and the communities in which they live."
For additional information about PLS, please go to http://www.pls247.com. To register for an AVON 39 event in your area, visit http://www.avon39.org.
About PLS
PLS® Financial Services, headquartered in Chicago, operates or manages approximately 225 financial services centers in markets that span the U.S. from California to New York. PLS serves customers by offering check cashing services, prepaid Visa® debit cards, money transfer services, direct deposit services, money orders, and bill payments. PLS also has motor vehicle services facilities, which offer vehicle license and registration services and PLS Auto, a full service auto dealership where customers can purchase quality vehicles at reasonable prices, from a name they know and trust. Visit PLS at http://www.pls247.com for additional information on products and services.
About AVON 39 The Walk to End Breast Cancer
AVON 39 The Walk to End Breast Cancer is the largest fundraising event for the Avon Breast Cancer Crusade. Since its launch by the Avon Foundation for Women in 2003, more than 235,000 participants have raised nearly $620,000,000 in the fight to end breast cancer. Funds raised at each event provide direct impact in the area where the event takes place, and also help make sure that care and research programs nationwide have adequate resources to make the most progress possible. For more information about AVON 39 The Walk to End Breast Cancer, visit http://www.avon39.org or join the #FierceIsForever conversation on Facebook, Twitter, YouTube and Instagram.