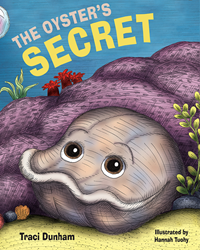 "My books speak to diversity. They carry messages of inner beauty and acceptance." --Traci Dunham
DALLAS (PRWEB) November 02, 2017
New Jersey-based, award-winning writer Traci Dunham combines her love for the sea with her passion to highlight acceptance and inner beauty in The Oyster's Secret (Brown Books Kids), which releases today, November 2, 2017. The story follows the unassuming Mr. Oyster as his sea creature friends boast about their beauty and talents. However, Mr. Oyster is not bothered one bit, because he has a secret gift of his own!
As a mother of two daughters, including one with special needs, the significance of inner beauty to Traci Dunham is especially strong. "My books speak to diversity. They carry messages of inner beauty and acceptance," she says. Dunham wants children to understand that it's OK to be unique, and that beauty comes in many forms. "I want to reach out to those who are different and make them feel accepted." When asked what reaction she hopes for from readers, she discloses that she hopes children will gain "sensitivity and appreciation for others who are different…Fears of being different hopefully will subside."
As an in-demand speaker, Dunham talks to parents of children with disabilities. She hopes that through her book, "teachers and parents will be able to engage in a conversation about these topics in a way that is easy to understand." Dunham visits elementary schools to promote the messages found in The Oyster's Secret, and encourages an interactive dialogue between parents and children.
Brown Books CEO, Milli Brown, commented, "We are delighted to share The Oyster's Secret with excited readers. I cannot wait to see how far this story's message of embracing diversity and inner beauty will travel. Traci's book not only provides an entertaining read for children, but it offers deeper messages of acceptance and the value in one's unique qualities."
"Everyone is uniquely special. Each child has something beautiful inside of them," Dunham believes. She reflects this attitude through the character of Mr. Oyster, as he tells each one of his friends, "Don't worry about me. I'm making something beautiful, you'll see." Join Mr. Oyster and his friends at the bottom of the sea as he reveals his special gift and teaches the importance of diversity, inner beauty, and acceptance!
The Oyster's Secret is now available at bookstores nationwide, as well as through the author's website, http://www.TADBooks.com.