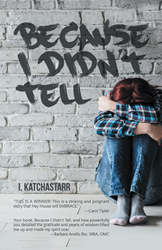 Ontario (PRWEB) November 06, 2017
In her new book, "Because I Didn't Tell," I. Katchastarr chronicles her journey from being forced to marry her rapist while facing the sexual, domestic, and emotional abuse of her and her children to living a life of freedom and healing.
Katchastarr understands firsthand what staying silent can do to victims, as her abuse went on for many years without her ever telling anyone. It wasn't until she decided to leave her husband and take control that she was finally able to set her and her children free.
"I wrote this book to serve as a tool of empowerment, through forgiveness (primarily of self, as well as forgiving the actions of their abusers) and wisdom, that will globally encourage all other victims of abuse to speak up and out about their situation, to seek help and protection, and to release the grip of fear that their abusers strangle them with," Katchastarr said.
At the end of each chapter, Katchastarr provides pearls of wisdom and self-forgiveness gems so that victims of abuse can use her experience and what she learned from it as a form of healing.
Carol Tipler, an author who writes under the pen name, Anne Ravenoak, said of the book, "In the final analysis, the journey Katchastarr took to overcome her adversities was rough, but she emerged triumphant, and, she tells her readers, they can triumph too."
In "Because I Didn't Tell," readers can find comfort in knowing that even through the darkest of times, speaking up can help them and others find the light.
"Because I Didn't Tell"
By: I. Katchastarr
ISBN: 978-1-5043-8392-9 (sc); 978-1-5043-8394-3 (hc); 978-1-5043-8393-6 (e)
Available at the Balboa Press Online Bookstore and Amazon
About the author
I. Katchastarr is a passionate reiki master and teacher as well as the owner and founder of Healing House, where she built a successful reiki practice that also serves as an independent adult living shelter. She currently lives in Ontario. For more information about the author, please visit, http://www.ikatchastarr.com/