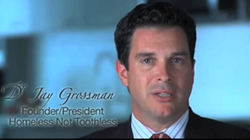 LOS ANGELES (PRWEB) November 10, 2017
In October 2017, acclaimed celebrity dentist Dr. Jay Grossman was honored by UCLA with a professorship for his 2-decade dedication in teaching the UCLA Dental students since 1995. Grossman, who maintains one of the largest and most successful dental practices in Southern California, is also founder of the prominent homeless charity, Homeless Not Toothless.
After completing a tour of duty with the United States Navy as a dental officer during the Persian Gulf War (1989-1991), Dr. Grossman was recruited by Dean Mito of UCLA to teach students on the clinic floor. After 10-years of teaching, he was moved to the AEGD (The Advance Education Program in General Dentistry) where he was teaching the residents for the next decade.
Concurrently with teaching and running his private practice, Dr. Grossman, the founder of a non-profit called Homeless Not Toothless, started supervising the dental students in treating homeless Veterans and foster children.
"This honor will allow Homeless Not Toothless to better solicit foundations for support," says Grossman, who to date has provided over $3-Million in pro-bono services to the homeless; he is, at this time, seeking $5-million dollars to have Homeless Not Toothless become a stable non-profit for life.
A speaker on the national stage, Dr. Grossman has the sufficient experience to recognize the elements that make for a good lecture. Dr. Jay Grossman, (http://www.conciergedentistry.com), also has a concierge dental practice in Brentwood, CA since 1991. He is a graduate of NYU College of Dentistry as well as a former Lieutenant in the United States Navy dental corp.