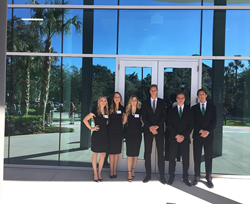 "I'm here to recommend more than a stock, I'm here to recommend a cause."
DELAND, Fla (PRWEB) November 02, 2017
Stetson University's Roland George Investments Program (RGIP) earlier this week launched a new stock index, Artificial Intelligence, during the semi-annual public trustee meeting which opened to a full house comprising students, faculty, and community members on Oct. 30.
Six Stetson University RGIP seniors spent months researching, vetting, analyzing and, ultimately, pitching, a total of five stocks to a board of faculty and student trustees. Those five are the Artificial Intelligence index, which includes four publicly traded single stocks, and one stock that focuses on women's health, specifically breast cancer detection.
Attendees were greeted by a computer-generated voice that seemed to converse with the first presenter, Stetson University student Leah Hauserman, who began making her case for her stock with the opening statement, "Artificial Intelligence is set for a 50 percent growth rate over the next five years, and my company is a market innovator in this industry owning 59 percent of the MEMs [microelectro-mechanical systems] microphone market."
She asked the board to invest $100,000 from the RGIP Growth Fund and with a vote of 5-3 they agreed.
"The stocks in the Artificial Intelligence Index will be first in its kind to directly invest in the pure play companies in Artificial Intelligence," said K.C. Ma, Ph.D., C.F.A., director of Stetson's George Investments Institute and the Roland and Sarah George Chair of Applied Investments for RGIP.
Trustees also heard from Stetson University student Christina Lint, who began her pitch by asking the audience to consider a company that combines Google, Facebook, Amazon, Activision and Spotify, "a Chinese super-conglomerate of Internet things."
Lint went on to discuss three growth drivers for the company, including moving mobile gaming into artificial intelligence and the Cloud, seeking to create a music IPO, and their domination of the gaming world, owning 53 percent of all mobile games in the world.
She asked the board to invest $100,000 from the RGIP Growth Fund and with a vote of 6-3 they agreed to purchase 2,000 shares.
Three students, Loic Blanco, Megan Christopher and Antoni Akkerman presented two additional stocks in the AI Index specifically dealing with wire-free charging and electric cars however, the Board rejected these stock purchases.
The final presentation of the evening focused on a rising social issue.
"I'm here to recommend more than a stock," explained Bryce Holbrook, Stetson University student. "I'm here to recommend a cause."
He went on to explain that there are 252,000 new cases of breast cancer in the U.S. each year and every two minutes someone is diagnosed with it. The company he presented manufactures devices focusing on women's health, such as breast cancer detection. In fact, 40 percent of the company's revenue is derived from breast health-related activities.
He asked the board to invest $100,000 from the RGIP Growth Fund and with a vote of 6-3 the investment was approved.
"Roland George Growth Fund does not just want to make money at all costs," said Ma. "We want to invest in a socially responsible fashion."
By the end of the meeting, $300,000 in total had been approved from the RGIP Growth Fund for investment in three stocks.
The new index joins the Cannabis, Drones9, Virtual Reality 4 and the Cloud 4 indices successfully launched in previous years by RGIP students. The stocks in those indices have outperformed the market by 35 percent for the past five years, further solidifying the RGIP performance record.
"This is real-world investing," said Ma. "RGIP students are able to jump start their money management experience in their senior year at Stetson, giving them experience equal to five years of hands-on work experience, and outpacing the competition in the job market."
The Stetson University School of Business Administration RGIP is known for having one of the nation's oldest and best market performances, and is directed entirely by Stetson University students. The pioneering program empowers top students majoring in finance and business to manage a real portfolio comprising $3.5 million in stocks and bonds. They use fundamental research tools and leading data services such as Bloomberg, Reuters, Morningstar and Baseline to find and defend investment recommendations to students and trustees of the investments committee.
Since 2001, based on the actual portfolio performances, RGIP students have won 16 championships and six second-place wins in the national R.I.S.E. (Redefining Investment Strategy Education) and G.A.M.E. (Global Asset Management Education) competitions.
Monday night's event was live-streamed by Stetson Broadcast Productions and can be viewed at: http://www.ustream.tv/recorded/109439956.
Personal investors who want information on the index or the individual stocks can contact Ma directly at kcma(at)stetson(dot)edu or 386-822-7496.
Disclaimer: The Roland George Investments Program, or students affiliated with the program, are not Registered Investment Advisors. As a result, any information contained herein or presented at an RGIP event should not be construed as investment advice.   
About Stetson University
Founded in 1883, Stetson University is the oldest private university in Florida, providing a transforming education in the liberal arts tradition. Stetson stresses academic excellence and community-engaged learning, and consistently earns high marks in national rankings. Stetson encourages its students to go beyond success to significance in their lives, the lives of others and their communities. Stay connected with Stetson on social media.
###