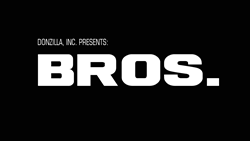 "I believe in his abilities, and wanted to utilize his talents in another location that would appreciate his unique vision and work ethic. I am very impressed by what he was able to do with the small amount he was allotted. It is truly remarkable," Ari Leib/Film Investor
WATERLOO, Iowa (PRWEB) November 04, 2017
Don Tjernagel's new indie comedy "Bros." is commanding great applause and cheer from its happy audience.
"A fun night on the town with the "bros."
"In this Battle of Waterloo, we all win!"
A unique aspect about Don's new movie is that it's one of the rare films to be made in and about Waterloo, Iowa. Don Tjernagel has donned the hats of both producer and director for this film.
"Bros." revolves around two young Midwest bar-hopping men in late 20s, named Tanner and Matt. Both are Waterloo natives on the threshold of an important decision. Tanner has recently received a job offer which is offering a handy raise. But if he accepts the new offer, he would have to bid adieu to his beloved hometown Waterloo. On the other hand, Matt is an out and out heterosexual man but is always struggling to make himself appreciated among the opposite sex. Would he able to pull himself out of the rejection phase and find a healthy mutual relationship? And would Tanner accept the raise even if that means leaving his family and hometown behind?
The film beautifully depicts two men bonding over scotch in a Waterloo pub and struggling to figure out the best course for their lives. The movie also opens our eyes to the fact that sometimes what apparently seems as a "raise" might cost us more than we would want to pay. Alongside, the film offers a hearty tour of Midwest lifestyle through the eyes of these two young men.
According to the audience, Bros. is a fun American Graffiti of modern times, jazzed up with charm, wit and subtle coolness. They have sent rave reviews for the film's upbeat and fun yet easy relatable storyline that has duly touched the chords. And Tjernagel's signature comedy and hilarious punches have made things more engaging for his spectators. Added to the storyline and awesome comic timings, the film's music has also garnered immense praise from the audience.
Bros. was filmed in the summer of 2017 and will be officially released in the coming month. The film's Premier is scheduled to be held on November 8, at Marcus Theaters Crossroads at 7 p.m. The event will feature a glam red carpet and photo backdrop and will be open for all.